Buy with Monthly Payments from GainSaver
GainSaver has partnered with Affirm to bring you more purchasing power when you order from GainSaver. As a new or returning GainSaver customer, you can now purchase refurbished Apple Mac and PC systems and make monthly payments for your purchases.
Split your purchase into monthly payments
GainSaver's new Affirm payment method allows you to spread your purchase over time with fixed, monthly payments at rates from 10-30% APR. Now you can leave your credit card in your wallet and make monthly payments over 3, 6 or 12 months. You decide the plan that's best for you.
Get an instant approval Decision
We know that you need your refurbished equipment delivered quickly. You don't have time to wait. And with our Affirm payment method, you don't have to wait. You are approved instantly at checkout time!
How much are the payments?
While you are shopping at the GainSaver website, you can see the monthly payment available for any item simply by clicking the Pay as Low As button that appears next to the price.
Click to see the detailed payment information for that item.

The example payment you see is calculated on a 10% APR with a payment plan of 12 months. As an example, if the item you purchase is $1,799, then the monthly payment is $158.14.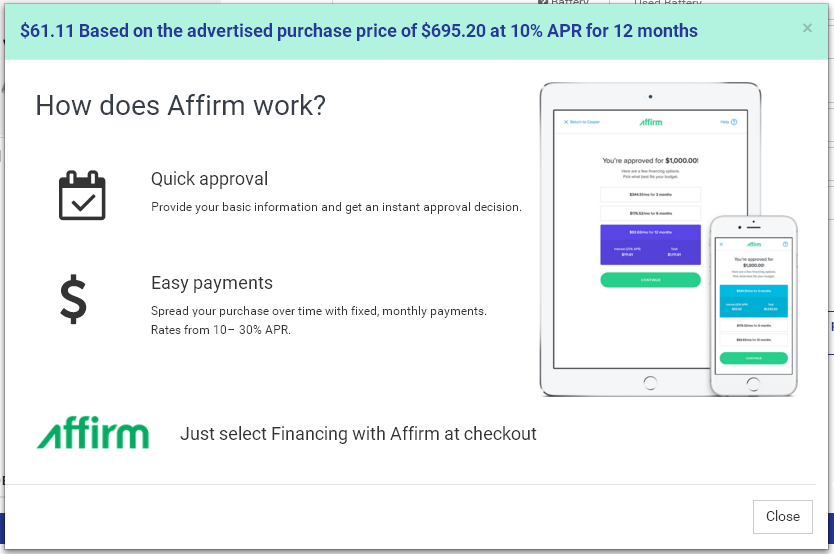 Click the Close button to continue shopping.
How Do I Get Monthly Payments on my GainSaver Purchase?
If you would like to split your purchase into monthly payments, the checkout process is very similar to ordering with a credit card. It's very fast and easy, and approval is instant. Here's how it works:
Add your equipment to the shopping cart.
You can order any new or refurbished products on the GainSaver website. Add the items you want to the shopping cart by clicking the Buy Now button.
Proceed to Check
From the Shopping Cart, click the Proceed to Checkout button
Check out with the Affirm payment method
Under "How Would You Like to Pay" at the bottom left of the screen, you'll see the payment methods offered by GainSaver. Choose the "Affirm Pay Monthly" button to select monthly payments for your purchase.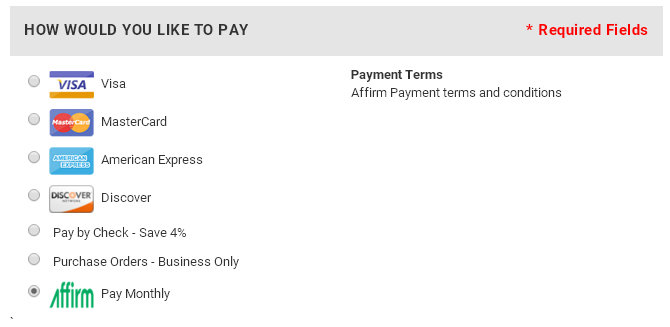 Confirm Your Order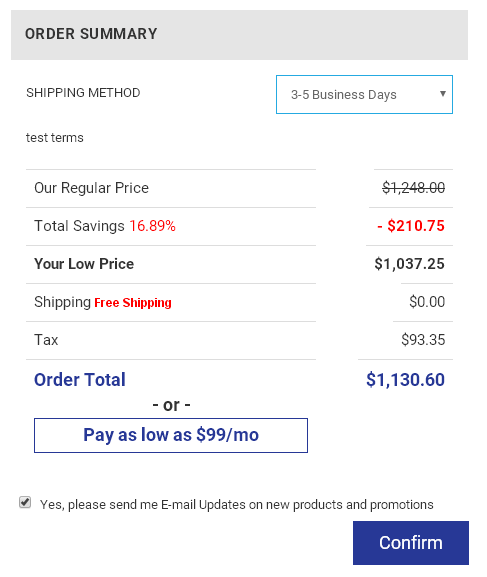 Click the Confirm button to continue on to the Affirm payment screen. Complete the required payment information and click the Create an Account button. In most cases, that is all the information you are required to enter.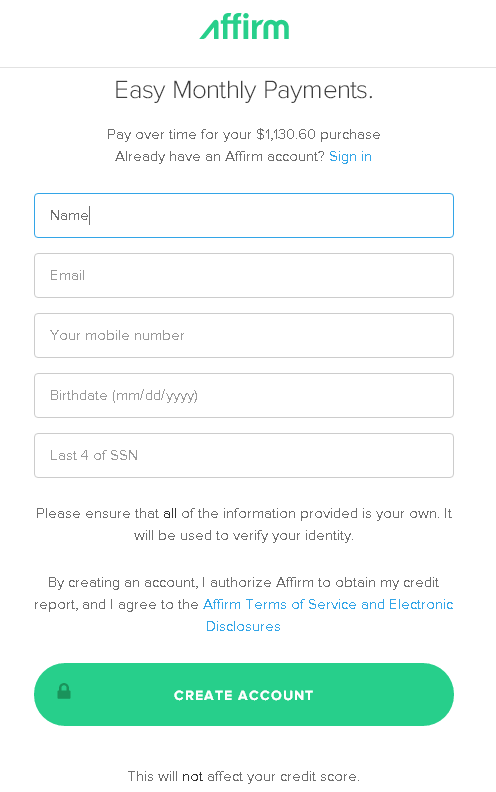 Approvals are made instantly. If you are approved, you are finished with the checkout process!
Receive your order from GainSaver
You will receive confirmation of your order from GainSaver. It will be processed immediately and shipped as soon as your products are configured and packaged for delivery. Using the Affirm payment method will not delay your order.
Pay Over Time
Your monthly payments will be made to Affirm according to the payment plan you selected.
FAQs Regarding Monthly Payments
Here are some frequently asked questions about using the Affirm payment method for your order.
Does Affirm perform a credit check?
Affirm performs a "soft credit check" which will not affect your credit score! If you return to Affirm for future purchases, Affirm may run additional "soft credit checks."
Why was I prompted to pay a down payment with a debit card?
Affirm tries hard to approve every purchase but sometimes can't approve the full amount. When this happens, they provide a debit card down payment option so that you may still complete your purchase right away.
Why was I prompted for a checking account?
Affirm sometimes requires additional information to consider a credit application. Such information may include an active checking account, which helps Affirm verify your identity and your ability to repay the requested loan. If Affirm prompts you for this information but you are unable to provide it, Affirm will be unable to approve your credit application.
Consider financing your refurbished equipment
We're sure you'll appreciate the convenience and increased purchasing power of Affirm's easy financing options we provide at GainSaver. Most importantly for our customers, there are no gimmicks with Affirm, like deferred interest or hidden fees. The total you see at checkout is always what you actually pay. This is an excellent choice for our customers looking for instant financing at a low interest rate.