Used MacBook VS Used MacBook Pro Buyers Guide
If you're looking for a great deal on a refurbished Mac laptop, you are probably wondering which would be best for you, a refurbished MacBook or a refurbished MacBook Pro. Buying refurbished from GainSaver will save you a lot of money either way compared to buying new.
You may be shopping for a refurbished MacBook, but you're not sure it will meet your needs. Or you might have already made up your mind to get a used MacBook Pro, but when you look at the prices on a refurbished MacBook at GainSaver, you can't help but wonder - should you purchase a MacBook instead? Refurbished MacBooks at GainSaver are cheap! But will they get the job done?
This Buyers Guide takes you through the main differences between the refurbished MacBook and MacBook Pro models available at GainSaver to help you make an educated purchasing decision. The goal is to help you purchase a refurbished Mac laptop that has the features and performance you need for your personal or business use, without buying more computer than you need to handle your particular applications.
As you read on, keep in mind that all refurbished Mac and PC computers we sell include an exclusive GainSaver 180 Day Warranty. Our warranty allows you to return your laptop, desktop or tablet computer and exchange it for another one for up to six months. If you find that the refurbished MacBook or MacBook Pro laptop you order does not meet your requirements, just return it and trade it in for one that does. So relax. No matter what you choose, you can't go wrong ordering from GainSaver.
Refurbished MacBook and MacBook Pro Overview
Apple introduced both the MacBook and MacBook Pro laptops in 2006. The original polycarbonate MacBook was discontinued in 2010, while the MacBook Pro is still in production today.
Apple is famous for manufacturing durable computer systems that provide many years of service. The MacBook, in particular, is extremely rugged. They are made from bullet-proof polycarbonate plastic that you can carry around with you or throw in a backpack.
The MacBook Pro comes in a range of processor speeds, screen sizes and resolutions. Once you have decided on a MacBook Pro, the next step is to select the particular MacBook Pro that best fits your needs. The refurbished MacBook Pro category at GainSaver gives you many options to select from.
Refurbished MacBook and MacBook Pro Feature Comparison
Both the refurbished MacBook and MacBook Pro are Mac laptops that run the familiar Macintosh operating system. Beyond that, there are quite a few differences in the specifications.
The following feature comparisons between the MacBook and MacBook Pro provide a general overview. In your search for a refurbished Mac laptop, you can use the GainSaver website to quickly compare specific models.
Select the Mac Laptop Category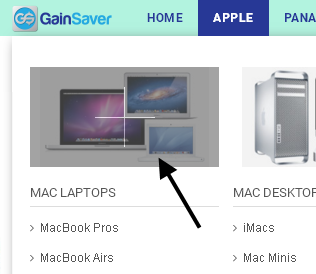 Click the Compare button on the models you want to compare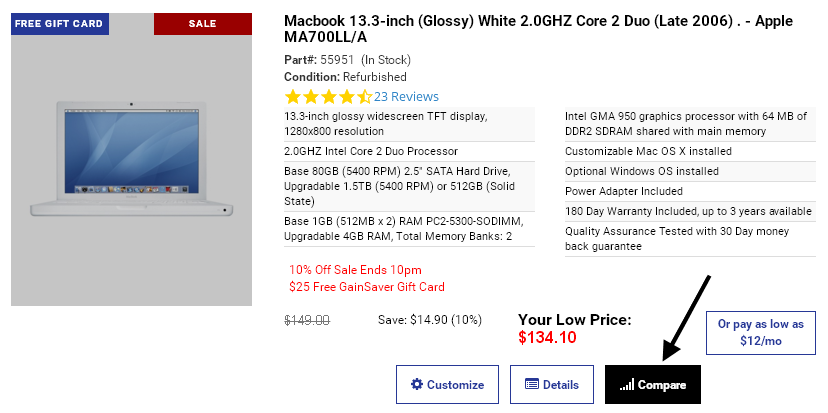 Click Compare to see them listed together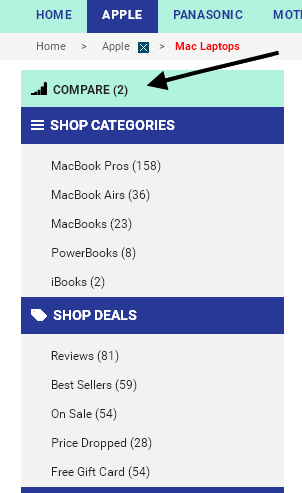 Click the Grid View button if you want to see them side by side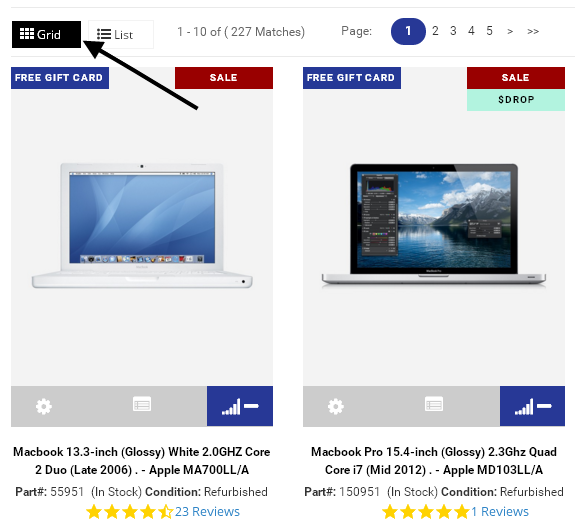 MacBook and MacBook Pro Specifications

Screen Size
The MacBook never changed in size over the years. All MacBook have 13.3-inch TFT displays that provide bright, clear images. The sharp displays on the MacBook are great for reading and viewing images and videos.
The MacBook Pro models come in three different size screens: 13.3-inch, 15.4-inch and 17-inch. The smallest screen is the same size as the MacBook screen. The MacBook Pro gives you the opportunity to go big, and get a screen size more suitable for gaming, graphic design, video production and working with large spreadsheets.

Screen Resolution
All MacBooks have the same resolution of 1280x800 pixels. This gives you plenty of screen area for surfing the web, managing email and word processing. The MacBook Pro, along with its different screen sizes, gives you a range of resolutions to select from depending on the model. Late model refurbished MacBook Pros are available from GainSaver with Retina displays that have resolutions that go up to 2880x1800 pixels. This gives you a desktop four times bigger than a MacBook. High resolution Retina MacBook Pros are ideal when you need multiple windows open at the same time, or run large business applications, graphics applications or video production software.
Remember that screen resolution and screen size are different. The resolution determines how many pixels will fit on the screen. Bigger screens do not necessarily have higher resolution, so make sure to check this spec on the MacBook Pros you look at if you need to fit a lot of information on the screen at one time.

Keyboard and Trackpad
Both the refurbished MacBook and MacBook Pro have keyboards that are very responsive and comfortable to type on. Newer model refurbished MacBook Pros have Multi-Touch trackpads that give you capabilities similar to an iPad. You can do three-finger swipes, rotate, pinch and more with the Multi-Touch trackpad.

Processing Power
Here is where refurbished MacBooks and MacBook Pros are the most different. All MacBooks have Intel processors that give you the performance you need to zip through everyday applications. The older MacBook Pros have the same Intel Core processors as the MacBooks up until 2010, and then they switch to the more powerful Intel i3, i5 and i7 series processors with either two or four cores.
If you need a high performance Mac laptop, then you should definitely go with the MacBook Pro models from 2010 on. The higher the processor series number (i3, i5 or i7) and the faster the processor speed (for example, 2.3GHz VS 2.8GHz) the faster you'll get through processor intensive applications. If you are doing web design, scientific data analysis or book keeping for your small business, you'll be happier with one of the newer, more powerful MacBook Pros.

Hard Drive
Hard drives have changed dramatically over the years. The older MacBook and MacBook Pro laptops came new with very low capacity hard drives starting at about 60GB to 80GB. This is way too much of a limitation today for all of your photos, music, software application and data files. Just the operating system files take up a lot of hard drive space.
Fortunately, when you order your refurbished MacBook or MacBook Pro from GainSaver, you can custom configure it to have it delivered to you with a higher capacity hard drive. GainSaver can configure your MacBook or MacBook Pro with a hard drive of 1TB or even more in size, eliminating storage problems completely.
The late model MacBook Pros come with flash drives rather than hard drives. Flash drives work just like memory. There are no moving parts in flash drives, so they run very fast. When you order a refurbished MacBook Pro that uses a flash drive, GainSaver can custom configure it with a flash drive up to 1TB in size. Just select the capacity you want in the GainSaver Configurator before you check out.

Memory
The amount of memory in your Mac laptop affects how fast it runs. With more memory, you can run more applications at the same time. And your laptop will run faster since it can keep more data in memory without the need to access the hard drive, which is a major speed bottleneck. For both MacBook and MacBook Pro laptops, the original memory configuration is less than ideal.
MacBooks had very little memory installed the way they were originally configured new from Apple, anywhere from 512K up to 2GB. When you order your refurbished MacBook from GainSaver, you can have more memory installed in the MacBook you select using the GainSaver Configurator. MacBooks that came with 512K can be configured with up to 2GB of memory, and the 2GB models can be configured for you with up to 8GB of memory. Regardless of the applications you will be using with your MacBook, you should definitely consider upgrading the memory simply because the operating system now takes up more memory space than before.
MacBook Pros typically have more memory than MacBooks, but the original MacBook Pros from 2006 came new from the factory with only 512K. The same speed improvements can also be had by adding more memory to your MacBook Pro. For best performance, you should have your MacBook Pro configured to at least 4GB if it doesn't already have that much memory. With late model MacBook Pros, you'll want at least 8GB. And 16GB is better yet to realize the biggest speed gains.

Optical Drive
Optical drives are not as widely used as they used to be, although many people still use them to install new software from optical discs and to back up data files like images and music files. All of the MacBooks and the early MacBook Pros came with optical drives.
If you are planning to use the optical drive, make sure that it has a Super Drive installed. If not, you can upgrade your laptop to a Super Drive using the GainSaver Configurator. The Super Drive both reads and writes to optical discs. The older combo drives cannot write to optical discs. They are read only.
The late model MacBook Pros do not have an internal optical drive at all. If you need one, you can purchase an older model MacBook Pro, or add an external optical drive to your order.

Ports
Ports are the various connectors built into the Mac laptop. The most common ports are the Ethernet port for connecting to a network, and the USB port for attaching external devices such as hard drives, optical drives, headphones, keyboards and mice.
The later model MacBook Pros have more ports than the MacBooks. Along with USB ports, some MacBook Pro models have high speed Thunderbolt ports and HDMI ports that support video out to external monitors and HDTVs. You'll want to go with a refurbished MacBook Pro if you have devices that require a Thunderbolt port to connect, or you want to connect your Mac laptop directly to your HDTV using the HDMI port.

Operating System
The operating system is the software that makes your Mac laptop work, and provides the familiar Mac interface. When you order your refurbished MacBook or MacBook Pro from GainSaver, the hard drive is complete erased and a fresh, unused copy of the operating system is installed for you, so that you are the first person to use it.
Each MacBook and MacBook Pro model has a default version of the operating software that GainSaver installs for you. In most cases, this is the latest version, and you can have an older version installed if you like. Just use the GainSaver Configurator to select it when you place your order.
The latest versions of the Mac operating system do not support the older model MacBooks that were introduced before 2010, or the original MacBook Pro that was introduced in 2006. These laptops have Mac OS X 10.7, named "Lion", installed by default by GainSaver. Lion is the latest version of the Mac OS that supports these models. Whether you are shopping for a refurbished MacBook or refurbished MacBook Pro, if you have software applications with specific operating system requirements, select this option in the GainSaver Configurator when you place your order so you get the operating system you want.

Dual Operating Systems
It's possible to install both the Mac operating system and the Windows operating system on the same laptop. This is true for all models of MacBook and MacBook Pro. Ordering your Mac laptop from GainSaver with dual operating systems is a very inexpensive way of getting two laptops in one, and can save you hundreds of dollars. Use the Windows operating system for your PC software programs and the Mac OS for your native Mac applications. With all your programs and files on one laptop, you'll have a lot less to carry around with you.
For both the MacBooks and MacBook Pros, you'll want to make sure that you use the Configurator to also select additional memory and larger hard drive to go with your dual operating system. Your laptop will run faster with the extra storage space required by the operating systems, applications and data files that the larger hard drive and expanded memory will support.
Refurbished MacBook and MacBook Pro Users
There are so many different types of Mac laptop users. What you plan to do with your Mac laptop is a key consideration in making your selection. If you find specifications to be a bit confusing, then consider this information when making your choice between a refurbished MacBook and a refurbished MacBook Pro.
Office and Small Business Applications
A refurbished MacBook is fine for light word processing and spreadsheet use. If you are using online software applications that run inside the browser, you don't need a powerful computer to do that. You can stick with a MacBook, as long as the screen resolution is high enough for you.
If you are planning to run newer business software applications that are data intensive, you'll want a MacBook Pro. They have a faster processor that will make your work go much faster. So scientific data analysis, big data applications and number crunching spreadsheets all require a MacBook Pro
Internet Browsing
If your primary application is going online and catching up on the news, doing online shopping or engaging with friends on Facebook and Twitter, a refurbished MacBook is an excellent choice.
When it comes to surfing the web, the major limitation of the MacBook is the screen size. If you need a bigger browser window than the MacBook provides, you'll be happier with a MacBook Pro. You can choose from three different screen sizes and various screen resolutions to find the MacBook Pro for the job.
Games
For classic desktop games and various puzzle games like Tetris or Solitaire, a refurbished MacBook is fine. But if you want a laptop for high speed action games like first person shooter games with 3D animation, you'll need a MacBook Pro for best results. You should go with a 15.4 or 17-inch model so the screen is big enough to show all the action.
Homework
Older students in high school and college need MacBook Pros. Refurbished MacBook Pros are more powerful and versatile, and provide features that older students will want to have. The 15.4 and 17-inch MacBook Pros are larger and a bit more delicate, but they are still easy to carry around for students in or near high school age.
For younger students, a MacBook is probably the better choice. Refurbished MacBooks are more durable and can still run the applications used by younger students, such a web browser for research and word processor for reports. And because they are so much more affordable, they are less expensive to replace should the student in your family break it or lose it.
High End Applications
This category of software application requires a more powerful system than a MacBook. They may run, but you will not be satisfied with the performance.
Graphics processing applications
Website design software
Audio and video production applications
Specialized scientific and engineering programs
Small business and related fields
Other business-centric applications for sales reps, entrepreneurs, churches, school administrators and non-profit organizations
These types of demanding applications are exactly what the MacBook Pro was designed to handle. And because they are portable, a late model refurbished MacBook Pro may be an even better choice than a refurbished Mac Pro desktop.
Summary of Differences between MacBook and MacBook Pro
There is a reason that Mac laptops, both new and refurbished, are so popular. They are high quality, easy to use, well designed and great for home, school and office applications. And when you purchase a refurbished Mac laptop from GainSaver, you save a lot of money on a MacBook or MacBook Pro that is carefully inspected, thoroughly cleaned, fully tested and delivered to you with our 100% satisfaction guarantee.
Trying to make up your mind on a refurbished MacBook or refurbished MacBook Pro from GainSaver is an easy decision to make. Both are excellent choices.
Refurbished MacBook
MacBooks have lower screen resolution and less processing power than MacBook Pros. However, because you can custom configure you MacBook when you order from GainSaver, you can have additional memory and larger hard drive installed. This will make a big difference in performance over a MacBook with the original factory specifications. It's actually better than new!
The primary benefits of the MacBook are cost and durability. Refurbished MacBooks are very inexpensive from GainSaver. And they are built to provide many years of dependable service.
If you really, truly can't make up your mind which Mac laptop is best for you, then go with a MacBook. When you buy from GainSaver, you can simply return it if it doesn't meet your needs and trade it in for a refurbished MacBook Pro. The exclusive GainSaver 180 Day Warranty that is included free with your purchase, you'll have plenty of time to test it out.
Refurbished MacBook Pro
A refurbished MacBook Pro gives you many more price and feature alternatives to choose from because the MacBook Pro has changed so much over the years. You can go with an older MacBook Pro that is not that different in features and price from a MacBook, or decide on a recent model refurbished MacBook Pro that has a much faster processor and significantly higher screen resolution. You can also choose from three different screen sizes, from 13.3 or 15.4, up to 17-inch.
All things considered, you can't go wrong with a MacBook Pro. They are the most popular Mac laptop, and depending on the model you are considering, the MacBook Pro is lighter and thinner than a MacBook. Also, there are features on the various MacBook Pro models you may want that a MacBook doesn't have, like an HDMI port to connect to your HDTV, a Multi-Touch trackpad for better cursor control, or Thunderbolt port for high speed connection to the latest peripheral devices.
As your do your Mac laptop shopping, make sure to take advantage of the GainSaver website to compare the various features of the refurbished MacBook and refurbished MacBook Pro models you are interested in. The website will help you quickly find the Mac laptop that best suits your needs, as well as your budget. And whatever you choose, we guarantee you will be happy with your purchase.