GainSaver Customer Service
We do our best to make things as fast and convenient as possible for our customers. It's easy to buy refurbished Mac and PC products at GainSaver, and it's just as easy to get customer service. If you need assistance or have a customer service question, we're here to help you.
All GainSaver customer service is handled through the online Customer Service System on the GainSaver website. The GainSaver Customer Service System is much better than email. When you purchase from GainSaver, you create a personal account. All of your interactions with GainSaver, such as purchase history, invoices, tracking numbers and customer service requests are there for you.
With the integrated customer service system, we can track all of your questions and requests, and make sure they are answered promptly and efficiently.
GainSaver Online Help
Before placing a Customer Service Request, you may be able to find the answer in GainSaver's Online Help. Here you can find answers for just about every question our customers ask.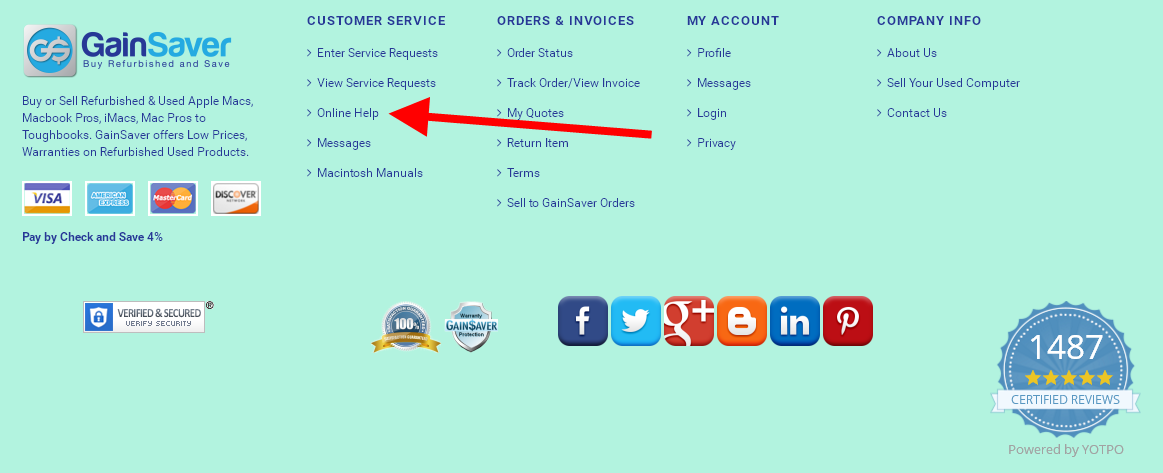 If the answer to your question is not in the Online Help, please use the GainSaver Customer Service system for help with your specific question.
How to enter a Customer Service Request
All you need to do to place a Customer Service Request is log into your GainSaver account and enter your request. The system is quite simple to use. Depending on your request, it may take up to 24 hours to receive a reply. However, we can usually reply within two to four hours of when you enter your Customer Service Request. Requests are answered during regular business hours. If your request is made late in the day, it may take until the next business day to receive an answer.
To get started, click the link Enter Service Requests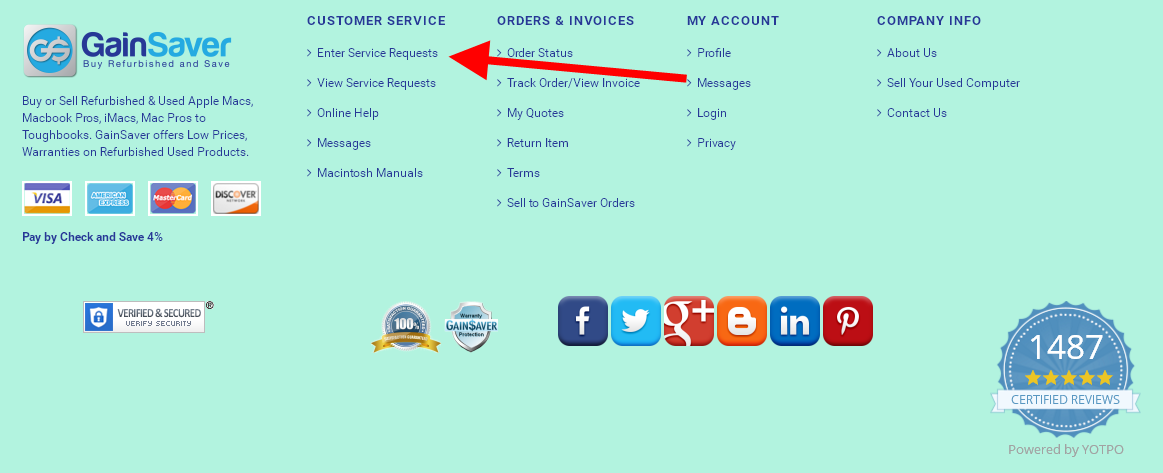 You can access the GainSaver Customer Service links from any page on the GainSaver website. The links are located in the green area at the bottom of the page.
Log in to GainSaver if you are not already logged in. Here is the login screen.

Select a Subject from the menu
Choose one of the subjects from the Subject menu that fits your question. You can always select General as the subject if you are not sure which one to choose. If you have a question about a computer system you are selling to GainSaver, choose one of the "Sell to GainSaver" subjects.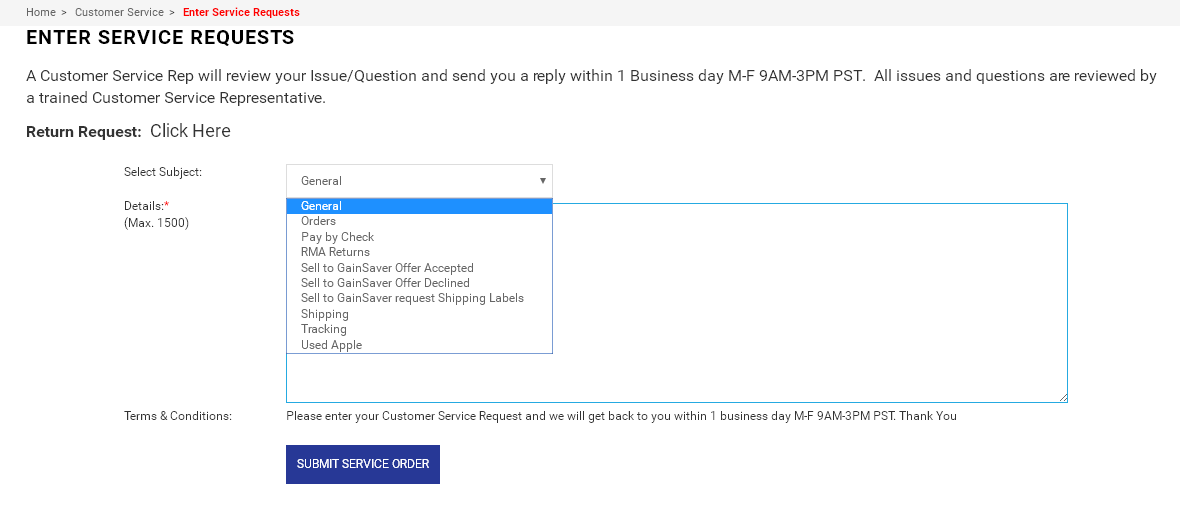 Enter your question or request in the Details box
Please let us know the details of any problems you are having and how we can best help you. So that we can serve you quickly, please try to keep your questions brief. That will help us provide the best answer to your question.
Getting Answers
Any time that GainSaver has information for you, such as the tracking number for your order, we put that in your Messages.
Replies to your Customer Service Requests can be found by clicking the Messages link. After you enter a Customer Service Request, come back to the GainSaver website, log in and click Messages. The Messages link is at the bottom of each page under Customer Service.

Click the link of the message you want to review.
When you need to enter a Customer Service Request
Many times you can find answers to your questions in the Online Help. But for a few things, we ask that you place a Customer Service Request so that we know what you want to do. Here are some examples.
You would like to:
Cancel an order
We'll do that for you as soon as you enter your request.
Return an order
When you are returning an order, we ask that you notify GainSaver first, before shipping it back. Let us know the order number you are returning and we will provide you with return information and an RMA Number. This number is to be placed on the box so we can successfully track it when it arrives at GainSaver.
Request a refund for a returned order
We you return an order within 30 days of purchase, you're covered by the GainSaver 30 Day Money Back Guarantee. You can return your order for any reason and receive GainSaver Store Credit or a refund.
Sometimes, our customers want to have the item they are returning replaced with a different refurbished Mac or PC. That is the purpose of the Store Credit. You can apply Store Credit for any other refurbished computer in our inventory.
If you would rather have a refund, just let us know by enter a Customer Service Request. Use the General subject, and just say "I want a refund."
How can we help you?
Please let us know when you have a question or need assistance. We're here to help!