How GainSaver Securely Packages Your Refurbished Mac
We are crazy about the importance of proper packaging for the refurbished Mac laptops and desktops we sell. We do everything possible to ensure that the discount Mac you order from GainSaver reaches you in 100% working condition – the exact same condition that it leaves the GainSaver warehouse.
GainSaver does not try to cut costs by using second rate shipping boxes and packaging materials. We invest in the best to protect your refurbished Mac. If you're interested in how your discount refurbished Mac will be packaged and shipped out to you, read on!
Customer Reviews Tell the Story
GainSaver sells thousands of refurbished Macs, and the feedback we receive from our customers regarding packaging and shipping is very positive. While you are browsing through GainSaver's huge selection of refurbished Macs, make sure to check out the customer reviews for yourself. The reviews are from actual GainSaver customers who have really purchased from us. You'll see for yourself the consistently high scores for packaging.
Extra Heavy Duty Shipping Boxes
GainSaver uses rugged shipping boxes for maximum protection of the refurbished Mac inside. The boxes have glued seams with strong edges and corners to ensure they do not collapse or bend. UPS has a Package Design and Test Lab that has developed box strength guidelines. GainSaver packaging exceeds the UPS recommendations for all the boxes we use for shipping.
NOTE: We ship your refurbished Mac in a discreet, brown shipping box. With delivery in a plain brown box, nobody knows that you are ordering an Apple Mac computer. This helps to ensure that your package is not the target of someone who might want to take it.
GainSaver does not reuse boxes! They can weaken if used multiple times. Every refurbished Mac we ship out is sent in a brand new box. On the outside of the box we attach the shipping label and a large red sticker that says "Fragile" to alert the delivery people who handle it during transport.
Large boxes for iMacs and Mac Pros
GainSaver uses 1/4-inch thick double wall corrugated boxes for refurbished iMac and Mac Pro desktops. These are premium, extra strength boxes designed to safely transport items up to 80 pounds in weight, as recommended by UPS.
The boxes have glued seams, and can withstand 275 lbs/sq. in. of side wall pressure without bursting. This means they can be transported at the bottom of a stack of boxes without any damage to the contents.
Small boxes for Macbook Pros and Macbook Airs
The small boxes used by GainSaver for refurbished used Macbook Air and Macbook Pro laptops are designed for shipping electronic equipment. They have strong glued seams and meet UPS guidelines for shipping items 40 pounds or less. They can withstand up to 32 lbs/linear inch of stacking weight without crushing. These boxes have a 30-50% stronger bursting strength than the boxes recommended by UPS.
Packing Materials
GainSaver uses ample amounts of packing materials to prevent your discount used Mac laptop or desktop from being shaken or vibrated during shipping. All refurbished Macs are wrapped with multiple layers of bubble wrap. Then they are placed in the box and tightly surrounded by additional packing materials. They will not move around inside the box during transit. We guarantee it. They are extremely snug and secure inside layers of protective materials.
GainSaver mostly usually uses 60 pound kraft paper as box filler. This heavy paper is cut and tightly crumpled by machine to create light but effective box inserts that provide a cushion around the bubble wrapped Mac. The paper stays in place. It tightly encases the refurbished Mac while still allowing some give that dampens the force of bumps or knocks to the outside.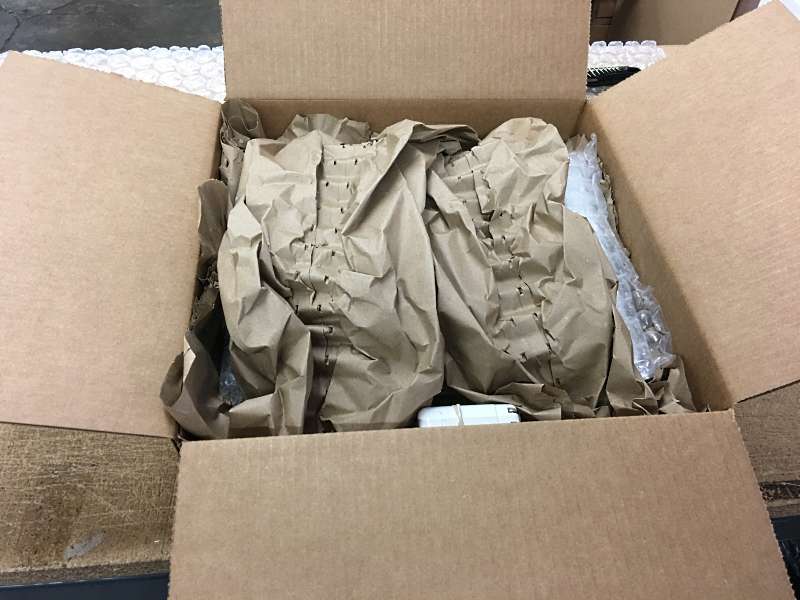 Kraft paper has advantages over other types of filler.
The kraft paper used by GainSaver is biodegradable.
Kraft paper does not settle or shift around during shipping like polystyrene peanuts. Kraft paper stays in place, ensuring that your refurbished Mac does not move around inside the box and get too close to the sides.
Inflated air bags are not strong enough to protect heavy items like computers. And extreme temperatures can reduce the effectiveness of air bags.
GainSaver will sometimes add polystyrene peanuts to shipping boxes containing 27-inch iMacs, along with the kraft paper. Because the 27-inch iMacs are so heavy and bulky, they benefit from having the additional peanuts used to fill any gaps.
The extra amounts of packaging materials we use add additional strength to the boxes, ensuring that they will not collapse when other boxes are placed on top of them. We make sure to provide at least two inches or more of space between the refurbished Mac and the sides of the boxes. This protects the discount Mac from vibrations during shipping, and provides cushioning around each side of the computer.
How Your Refurbished Macbook Pro is Packaged for Shipment
Here are the steps we take to wrap and package a refurbished Macbook Pro.
First, after every fingerprint and dust spec has been removed, your thoroughly cleaned and refurbished Macbook Pro is sealed inside a protective plastic covering.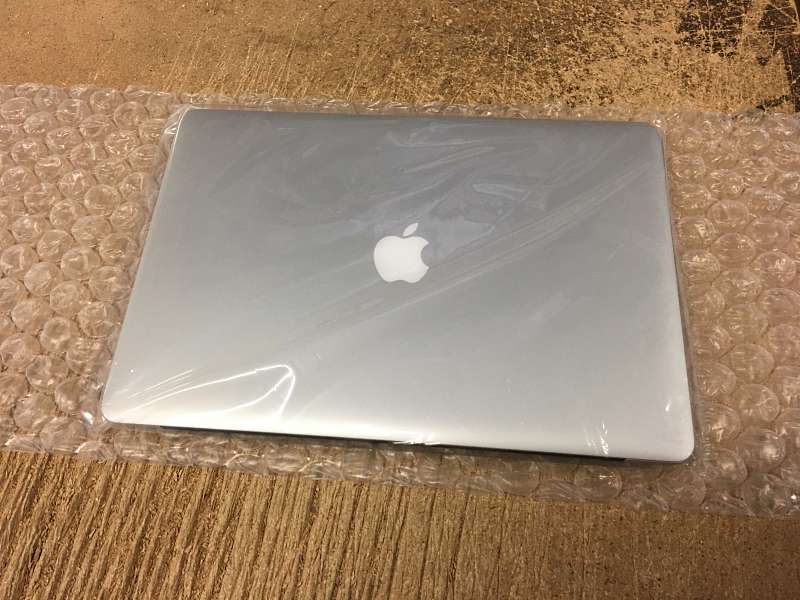 The Macbook Pro is then tightly wrapped multiple times with heavy duty bubble wrap.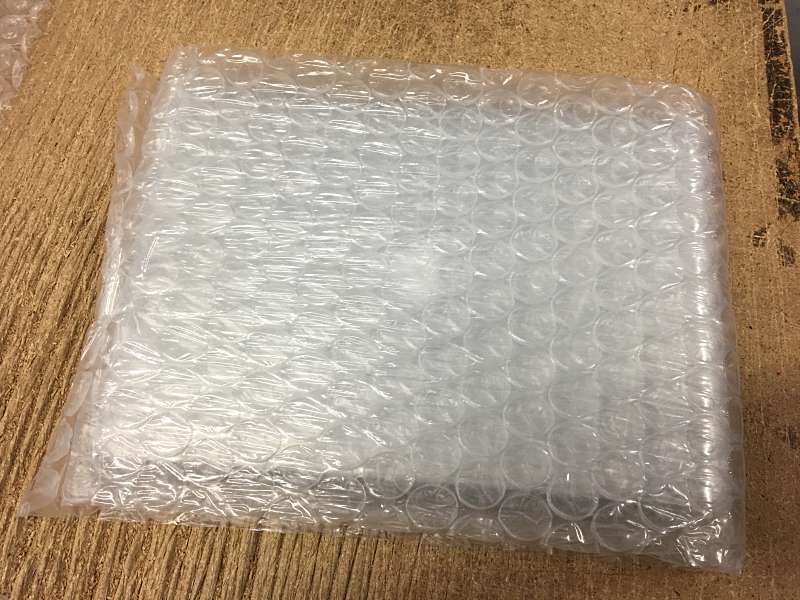 Once wrapped, the refurbished Macbook Pro is placed in the box on top of a thick layer of crumpled kraft paper. The paper holds the Macbook Pro firmly in place in the center of the box, away from the edges.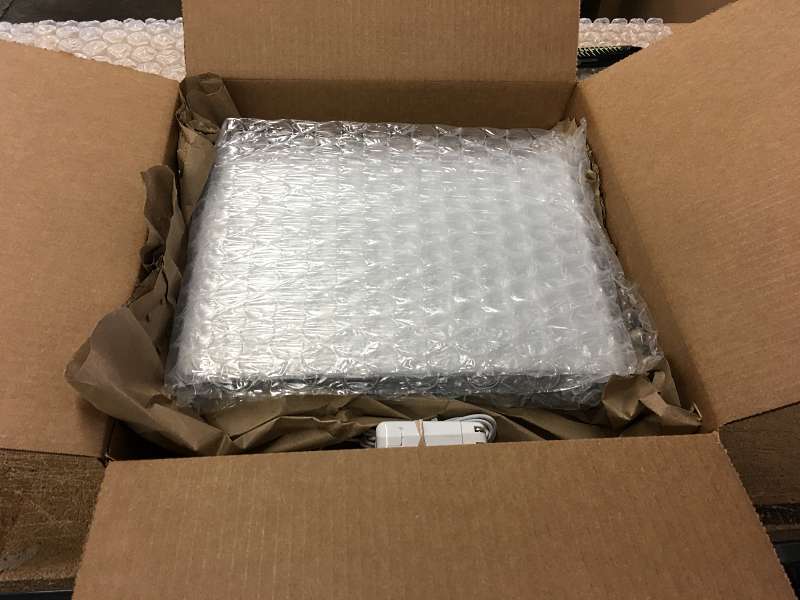 Additional kraft paper covers the top of the Macbook Pro. It is now securely positioned inside and will not move or shift around during transport.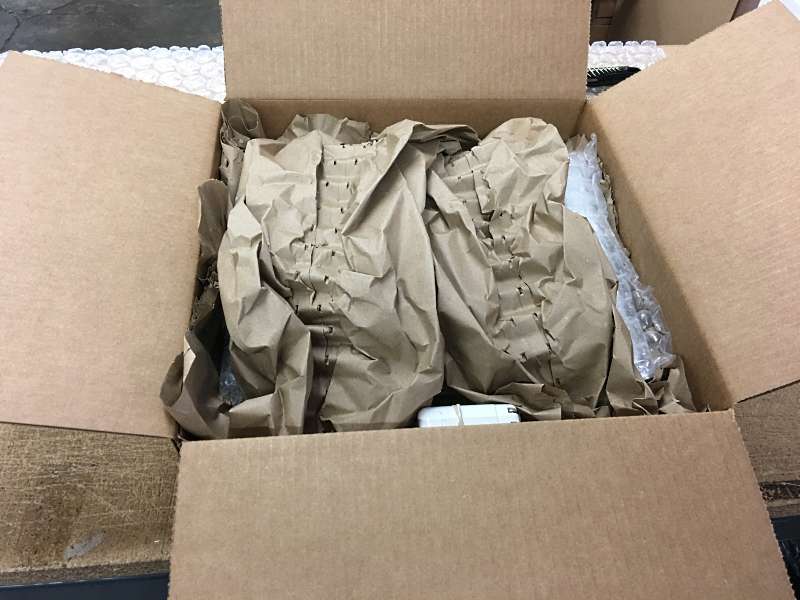 Finally, the shipping box is sealed with several layers of packing tape. A strip of security tape surrounds the box, letting you know if it has been opened during shipping.
A red Fragile sticker is placed on the box to make delivery personnel aware that the contents should be handled carefully.
How your Refurbished iMac is Packaged for Shipment
iMacs are packaged in the same basic way as refurbished Mac laptops. Because they are so much heavier and bulkier, we add many additional layers of bubble wrap. First, the screen area is wrapped multiple times, and then the entire refurbished iMac is wrapped again several more times. We are very generous with the bubble wrap!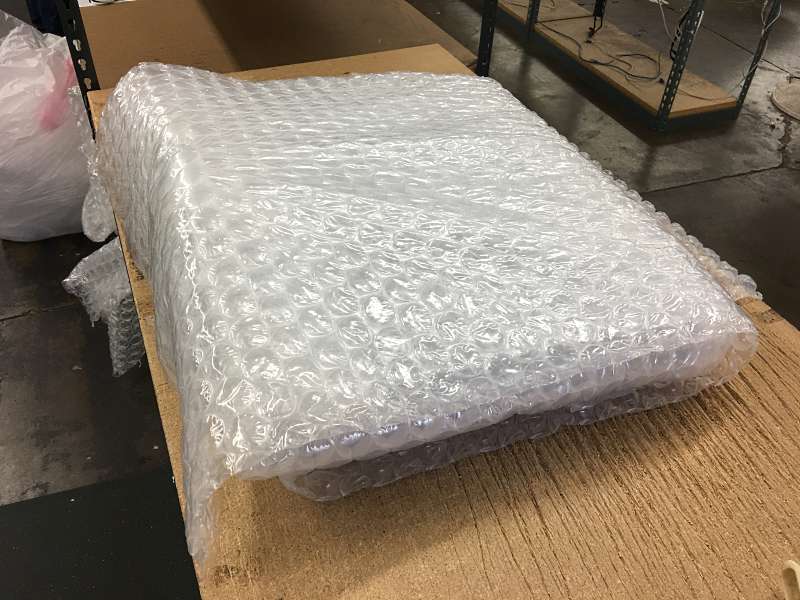 We make sure the screen is protected from damage during shipping by placing it face down in the shipping box on top of a thick layer of packing materials.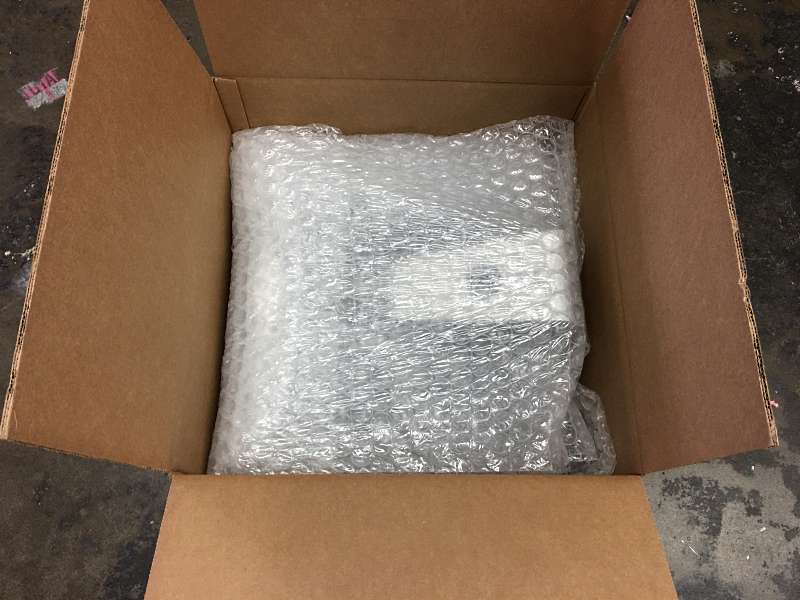 Additional kraft paper is placed around every side of the iMac to keep it safely away from the sides of the box.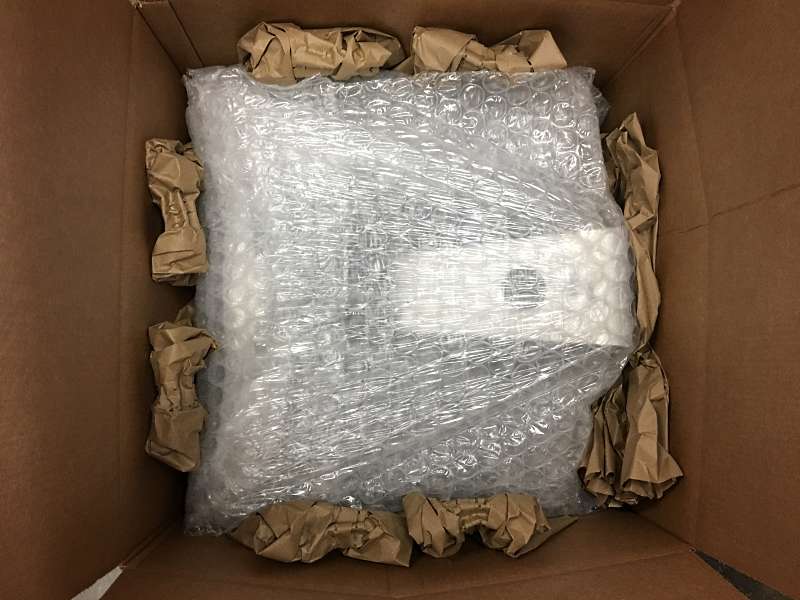 The iMac is then covered with kraft paper to tightly fill the rest of the space inside the box. This prevents it from shifting around during shipping. The keyboard and mouse, when included with the order, are placed on top of the packing materials.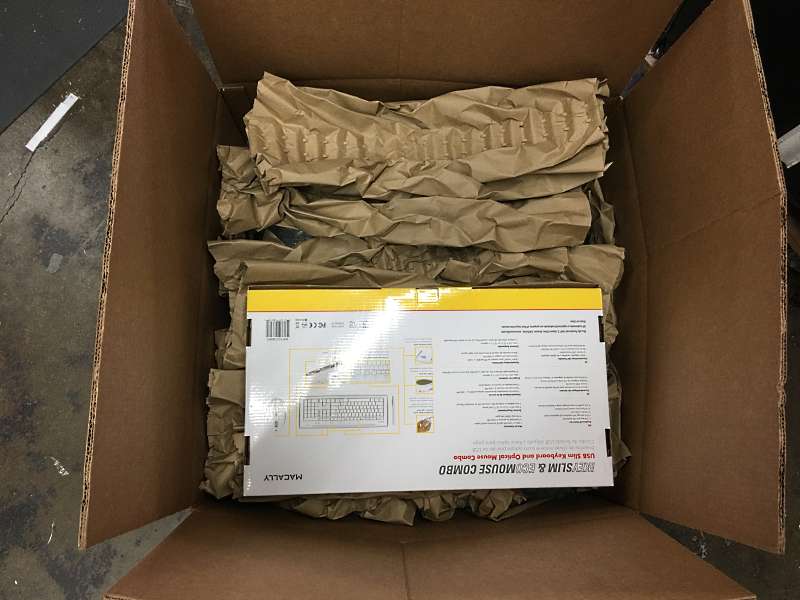 Once securely packaged, the shipping box is sealed with multiple layers of tape. Finally, the Fragile sticker is placed on the box to notify the shipper that the package should be handled gently.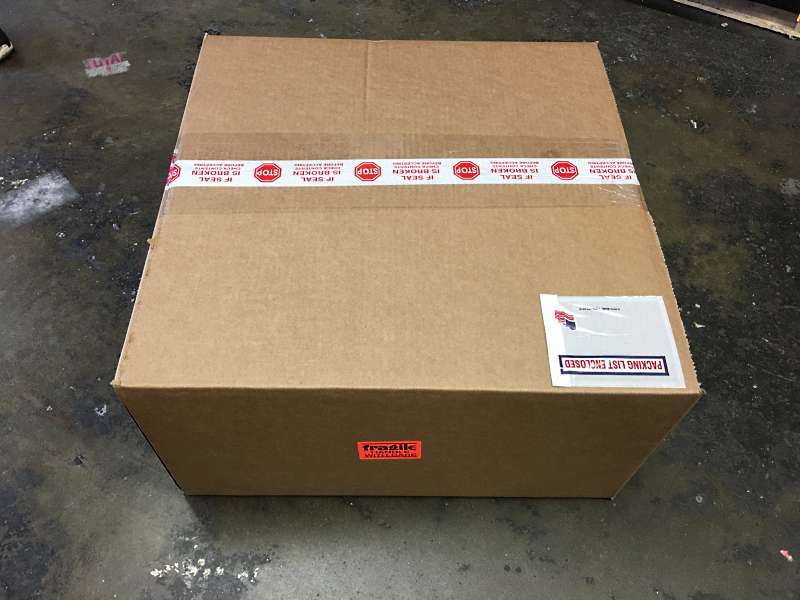 Unbox and Start Up your Refurbished Mac
When you receive your refurbished Mac laptop or desktop, it's all set to take out of the box and start up. It has been fully tested and cleaned. The Mac OS is installed and all you need to do is turn it on and begin enjoying your refurbished Mac.