Here's How to Save Even More on Refurbished Macs with Small Dents
GainSaver is the place to save on refurbished pre-owned Mac laptops and desktops. And one secret to saving even more is to watch for special deals on Mac laptops and desktops with cosmetic blemishes that include small dents, dings, scuffs and scratches.
Are Small Dents Macs OK to Buy?
First of all, it's important to know that GainSaver technicians fully test all of the used and refurbished Macs we sell to insure that they are 100% functional. We don't ship them out if there are any problems detected during the physical and automated diagnostics tests we run. They work perfectly. And secondly, we guarantee every GainSaver refurbished Mac we sell for a full 30 days. Our guarantee is unconditional. If you're not satisfied for any reason, you can return it for a refund or replacement. No questions asked.
So yes! It's OK to buy Small Dents Macs. You can save even more!
Examples of Small Dents
Here are some example images of Mac laptops that we have categorized as having Small Dents. Every Mac we sell is different, so these images will not match what you receive when you order a Small Dents Mac from GainSaver. But they are representative of what you can expect with a Small Dents Mac.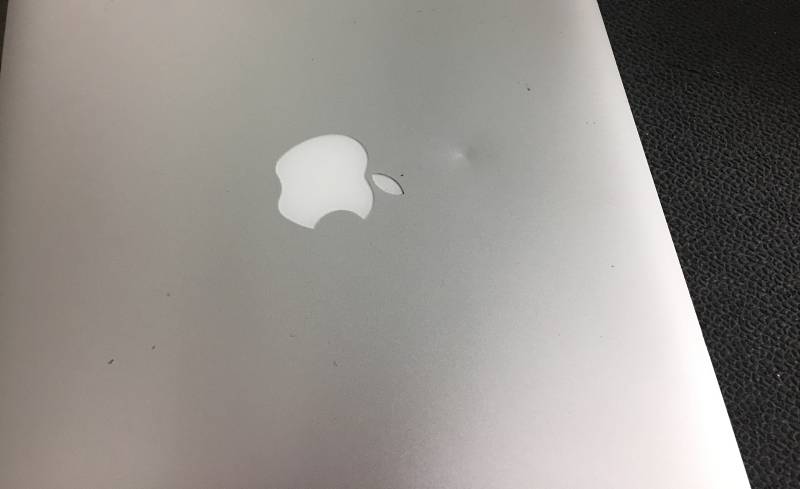 This Mac has a small dent on the top case above the Apple logo.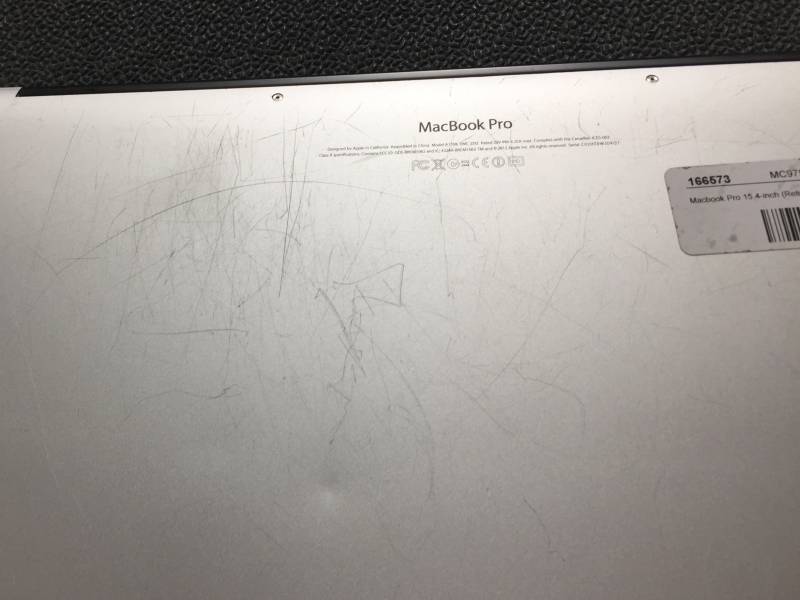 This Mac laptop has scuffs and scratches on the bottom of the case. This photo is before refurbishing, when missing feet (top left of photo) will be replaced with new ones.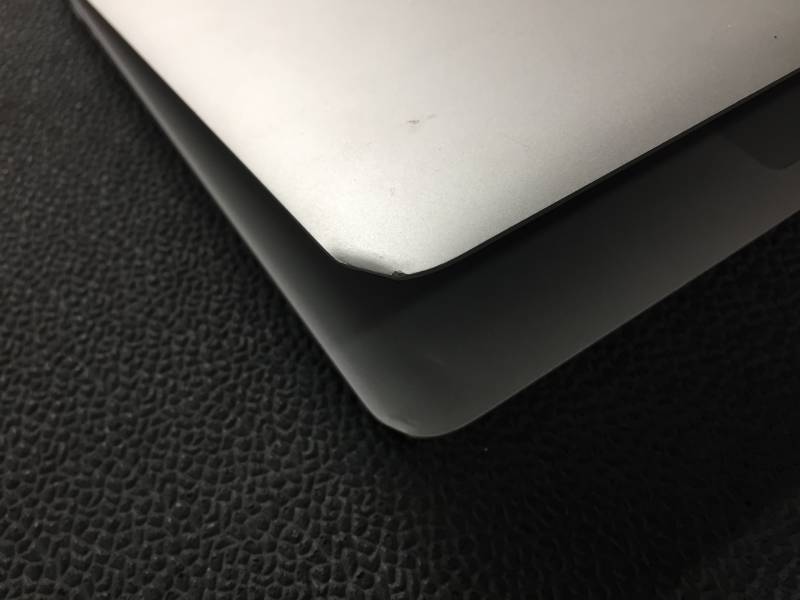 In this example, there is a small dent on the front edge of the case.
How to find Small Dents Macs at GainSaver
Follow these links to find Small Dents Macs on the GainSaver website.
Small Dents Macs by Category
Search GainSaver for Macs with Small Dents
To find Small Dents refurbished Macs in any category you are browsing, just search on the term "dents" to limit the List View to Macs with Small Dents. The Search Box is at the top of every page.
What's a Small Dents Mac?
Our small dents units have cosmetic imperfections like dings, dents or noticeable scuffs and scratches on the enclosures. They are the result of normal wear. We're not going to sell you a Mac laptop that's bent in half and looks like it was run over by a car! "Small Dents" means small dents.
Our goal is to make our customers happy with the refurbished Macs they purchase from us. And if you don't get what you are expecting, then you are not going to be satisfied. For this reason, we are very picky about how we evaluate our units for classification. This is how we define them:
Condition: Excellent
It's really hard to find any blemishes at all in our Excellent Condition Macs, but they could have very light scuffs or scratches that are hardly noticeable.
We do not always have Excellent Condition units available. When you are browsing the GainSaver website for a refurbished Mac, check out the Configuration Menu. If we have Excellent Condition Macs in stock for that part number, you will see that option in the Condition Menu.
Condition: Good
Good Condition is the condition of most of the refurbished Macs we sell. Because they are used, they have minor cosmetic blemishes that may include light scratches or scuffs and minor dings. They are the result of normal use. You'll notice them when you inspect the enclosure.
Condition: Small Dents
Our Small Dents Macs have pretty obvious marks, scratches, dings or dents on the enclosure. Nothing really major, but still noticeable - except when you're using it. You'll completely forget about the small dents because it works perfectly. Most of our customers who have purchased small dents Macs from GainSaver are pleasantly surprised. The dents are not really all that bad. And it's always nice to save a little extra money.
Remember that our Small Dents Macs are fully functional. All components work properly. Every key on the keyboard works. We understand that nobody wants a Mac laptop or iMac desktop with imperfections on the display. Our small dents units have no scratches on the screens or any bad pixels. The screens are fine.
You can tell small dents units by the words "Small Dents" in the name, and also "_smdents" added to the end of the part number.
This is the Condition Menu you will see when you look at the Detail page for a Small Dents Mac.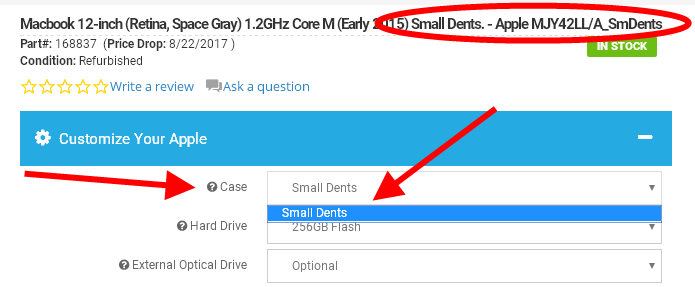 Are Small Dents Macs for You?
Small Dents Macs from GainSaver are an ideal way to save when:
You are not overly concerned about the appearance of your Mac laptop or desktop. You can live with some small dents.
You will be carrying your Mac laptop around all day with you for school or business and, over a period of time, will probably add some of your own dents to the enclosure. This is less traumatic when your Mac comes "pre-dented."
If you're looking for really pristine Macs then we suggest you order our Good and Excellent Macs. But if you don't mind some cosmetic imperfections, then you can save even more with a Small Dents Mac. And if you are not completely satisfied, don't worry - you're protected with our satisfaction guarantee.