Back to School Mac Shopping Guide for Students
Do have a lot of students to shop for? Are you a student yourself shopping for a deal on a Mac laptop or desktop computer? You're at the right place to save on discount refurbished Macs, because every student wants a Mac!
Save Money on Refurbished!
Students need computers for school, but there's no reason to spend more than you need to. You save money when you shop GainSaver for top quality discount refurbished Mac laptops and desktops for you and the students in your family. And the more students you shop for, the more you save on refurbished Macs at GainSaver's discount prices!
Biggest Selection Anywhere
Everybody claims to have a big selection, but we really do! GainSaver has thousands of refurbished Macs in stock with hundreds of different part numbers to choose from. You can find exactly the discount pre-owned Mac with the features you want and still stay within your back to school shopping budget. We have discounted Macs for students who need Macbooks Pros, Macbook Airs, Macbooks, iMacs and more.
30 Day Money Back Guarantee
It's not enough to just save money. It's important to be happy with your discount Mac purchase. GainSaver makes shopping for discount used Macs as easy as buying new! We guarantee that the refurbished Macs you order from GainSaver are 100% fully functional. If you are not satisfied for any reason, you can return it for refund. No questions asked!
Extended Warranty Programs
GainSaver has the best Extended Warranty program anywhere for refurbished Mac laptops and desktops. You can purchase an affordable Extended Warranty from GainSaver to protect your Mac investment from six months up to three years. We've got you covered!
Custom Configuration
So many of our customers choose GainSaver because we can custom configure your refurbished Mac with the hard drive, memory and Mac OS you want. Students often need more memory and file storage capacity for videos, music, software applications, research data and homework files. We can even install Windows on your discount pre-owned Mac so you're ready for to handle any task for school that requires a Mac or a PC. It's like getting two computers in one!
Instant Financing
Students need a lot of things for school, like tuition, books and clothes. That can add up fast – especially if you have more than one student to shop for! GainSaver can help with affordable financing that allows you to purchase one or more computers with low monthly payments over 3 to 12 months. And it's incredibly easy to do.
After you click the Buy button to start checking out, you'll see the Pay Monthly option.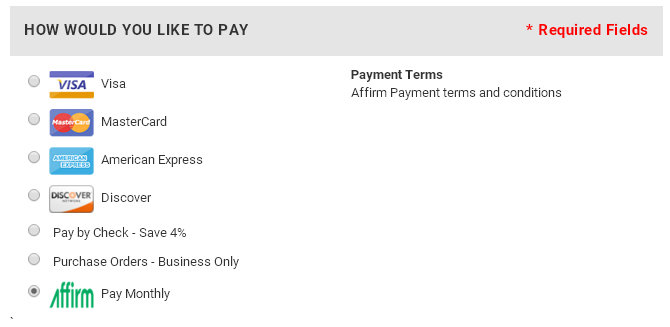 It's that easy. After you answer a couple of questions, approval is instant!
Discount Macbook Pros for Students
Refurbished Macbook Pros are ideal for students because they are powerful and portable. If you are looking for a Mac laptop and you're not sure which one is best for you - or the student you are shopping for - go with a Macbook Pro.
GainSaver has discount Macbook Pros in 13-inch, 15-inch and 17-inch screen sizes. Macbook Pros with a smaller screen size are lighter and easier to carry in a backpack, while the larger screen sizes are good for older students to need more desktop space on the screen for handling multiple applications at once.
Non-Retina Macbook Pros
Non-Retina Macbook Pro laptops were made by Apple until 2012, when the Retina Macbook Pros were first introduced. The non-Retina refurbished Macbook Pros are older and less expensive than the Retina Macbook Pros. They are also a bit heavier for students to carry around. The biggest difference is that the screen resolutions are lower than with the Retina Macbook Pros, so the desktop itself is smaller and graphics do not have quite as much detail.
Refurbished and discount non-Retina Macbook Pros are an excellent price/performance value for students, and can stretch your back to school budget significantly.
Retina Macbook Pros
Retina Macbook Pros were introduced in 2012, and are the current standard. The term Retina refers to the very high screen resolution of 2560 x 1600 for 13-inch Retina Macbook Pros and 2880 x 1800 for 15-inch Macbook Pros. They are excellent for watching videos. If your student will be doing creative activities like recording music, designing graphics, creating presentations or editing videos, consider a discount Retina Macbook Pro.
Discount Macbook Airs for Students
Think of refurbished Macbook Air laptops as thin and light versions of the Macbook Pro laptops. Students love the Macbook Air because they are so easy to carry in a backpack.
Affordable refurbished Macbook Air laptops are less powerful, but have a full set of ports like the Macbook Pro so students can connect a lot of peripherals at once like an external keyboard, mouse and monitor. Discount Macbook Airs come in smaller screen sizes than the Macbook Pro.
11-inch Macbook Air Laptops
Refurbished 11-inch Macbook Airs are perfect for students who want to have a Mac laptop they can quickly open and start using anywhere. Its small size makes the 11-inch Macbook Air perfect for taking notes in class and doing research in the library.
13-inch Macbook Air Laptops
The refurbished 13-inch Macbook Air is the largest Macbook Air, and has the same screen size as the smallest Macbook Pro. But it's much thinner and lighter than a Macbook Pro of the same screen size. The 13-inch discount Macbook Air is almost as portable as the 11-inch version, but the bigger screen does make it more convenient for students who are doing more than writing papers and doing research online. They are also a good size for graphic design, presentations and watching videos.
Discount Macbooks for Students
The Next Generation Macbook is the most recent addition to the Mac family of laptops. They have a 12-inch screen and are amazingly thin. At just 2 pounds, the 12-inch refurbished Macbooks are even lighter than the 2.38 pound, 11-inch Macbook Air!
There are a lot of reasons students would want to have a 12-inch Macbook for school. They have a Retina display, which the Macbook Air doesn't. The 12-inch Macbook has 2304 x 1440 pixels, so you can see much more detail in graphics and video. The Macbook also has many new features that even the refurbished Macbook Pro doesn't have, such as the butterfly keyboard that is easier to type on, and the Force Touch trackpad that is pressure sensitive. One additional plus for the discount refurbished 12-inch Macbook is that it does not have an internal cooling fan, so it is absolutely silent in the school library.
Discount iMac Desktops for Students
There are times when a student needs a big screen, and a Mac laptop just isn't enough. When that happens, the iMac all-in-one desktop is the best solution. The iMac has the display and computer components all in a single enclosure. All you need to do is plug in the power cord and you're ready to get to work. Because there is no tangle of cables, the iMac is easy to move around the house or the dorm. And with its large screen, the iMac can become an entertainment center for students when not being used for homework.
GainSaver offers a huge selection of refurbished iMacs that let you stay within your budget.
20-inch iMac Desktops
Back to school shoppers love the low cost, refurbished 20-inch iMac! GainSaver has the popular 20-inch iMacs at extremely affordable prices to fit any student's budget. The pre-owned 20-inch iMacs have bright 1680 x 1050 resolution displays and dual core Intel processors that support most current software applications.
21-inch iMac Desktops
The 21-inch iMacs are an excellent size that will fit comfortably on any student's desk. And they are not too large to be easily moved out of the way when not in use. Refurbished discount 21-inch iMacs are available at GainSaver in a wide selection. You can find affordable discount 21-inch iMacs that were introduced 5 or 6 years ago, or more recent systems with faster processors for just a little more.
27-inch iMac Desktops
If you want an entertainment center along with your back to school Mac computer, then the 27-inch iMac is the way to go. The large, bright screen provides a huge desktop that can be used to open and run many applications at once. This is great for students doing research who need a lot windows open at the same time. And after school, the pre-owned 27-inch iMac has a huge screen and brilliant sound for movies and videos.
21-inch and 27-inch Retina iMacs
If you or your students will be attending school and need a super high-resolution large screen Mac for scientific modeling, programming, video production or graphic arts, then you'll want a discount refurbished Retina iMac! They offer incredible views of any school projects a student could ever be involved in. Refurbished Retina iMacs have high performance processors, lots of ports, and an amazing display that will satisfy the needs of any student from high school to grad school.