Mac Laptop Buyers Guide for Medical Professionals
Doctors, physicians, med students and medical practitioners of all kinds need computers to assist them with every aspect of their operations. GainSaver helps healthcare professionals get the most value for their money with affordable, top quality refurbished Mac laptops.
Why Go With a Mac laptop?
Many of the reasons physician's and doctor's office managers choose refurbished Mac laptops are the same as people in other professions. Used Apple Mac laptops are durable and dependable. They have hardware malfunctions less frequently than PCs, and also experience fewer problems with viruses and malware. With so much going on, there's no time to stop and deal with computer problems. Used Apple Macs from GainSaver have a long track record for reliability. Mac users swear by them because of the many years of trouble free use they provide.
There is no reason to pay any more than you need to. Used and refurbished Mac laptops from GainSaver offer excellent value because they are 100% guaranteed to meet your needs. If you are not totally satisfied, you can return your refurbished Mac laptop for refund or exchange.
In addition, GainSaver offers an Extended Warranty program that is actually better and cheaper than the warranty on a new laptop. At a very affordable price, you can add an extended warranty for additional coverage from 90 days up to 3 full years. If you have any trouble at all under your GainSaver Extended Warranty, GainSaver will replace it for you.
Best Laptops for Windows? Refurbished Macs!
Most popular medical and small business software applications are available for both Mac and PC systems. You can probably use native Mac apps for everything you do. But if you need to run Windows applications, GainSaver can install Windows for you when you check out your refurbished Mac laptop.
Even if you plan to run your medical office exclusively under Windows, it's good to know that the Apple Mac is the best Windows system you can have. They are powerful, durable, have responsive, accurate keyboards and large trackpads that easy to use. They also have the ability to connect to Mac or PC keyboards and external displays when you are working at your desk.
Easily Sync Data from iPads and iPhones
Apple has removed the roadblocks that made it difficult to move information from one Apple device to another. Medical students, practicing physicians and even patients all use smartphones, particularly iPhones. When you are using a refurbished discount Mac laptop, it's extremely fast and easy to sync your data between your iPhone and your Mac.
You can also take advantage of iCloud. All of your business and patient files, spreadsheets, images, PDF files and more can be stored on your iCloud drive from any of your Apple devices. You can create presentations on your used Mac laptop, move them to your iCloud drive and then have them available for your iPad or iPhone.
The best part about using iCloud with your discount refurbished Mac laptop is that once you set it up, files move to iCloud automatically. All you need to do is save your files in the Document Folders or on the Desktop. It's that easy to make sure you're never without critical patient records.
Which Mac Laptop is Right for You?
GainSaver has an enormous selection of used and refurbished Macbooks, Macbook Airs and Macbook Pros at low discount prices. We can save you money on a reliable refurbished Mac that comfortably fits your budget.
Next Generation 12-inch Macbook
There are two features of the used 12-inch Retina Macbook that make it an exceptional choice for healthcare professionals. First is the remarkable weight. The GainSaver refurbished Macbook is only 2 pounds! If you will be carrying your refurbished Mac laptop with you most of the day and don't want to lug a heavy laptop around, there is no better choice than a discount used 12-inch Macbook! You'll find it perfect for carrying to class or having it with you while making rounds with patients.
The other standout feature is the Retina display on the next generation 12-inch Macbook. It has a resolution of 2304 x 1440, for a total of over 3 million pixels. You'll want to be able to get a clear view of diagnostic images, and you can certainly do that on a used Macbook. The Retina display on the 12-inch Macbook is excellent for viewing large images in great detail. The high resolution and clarity are what you need for viewing X-rays, MRIs, CAT scans and other types of images and photos.
The used 12-inch Macbook also has a high speed USB-C port. The USB-C port offers fast data transfer and can be connect to virtually any external devices with the right adapters. USB-C is the future of fast data ports for both Mac and PC computers.
The refurbished 12-inch Macbook is available from GainSaver in three different colors, Gold, Silver and Space Gray. We also have the Early 2015 Macbook in three speeds of the fifth generation Intel Core M processor. We have in stock and on sale the used and refurbished 1.1GHz Macbook, 1.2GHz Macbook and the 1.3GHz Macbook. You'll be running power hungry apps, so we recommend the refurbished Macbooks with the faster processors for medical professionals.
Expandable Macbook Air
The refurbished Macbook Air laptops at GainSaver come in two different sizes, with 11.6-inch displays and 13.3-inch displays. Although they are a bit heavier, the 11.6-inch Macbook Airs have a smaller footprint. You can easily use it on practically any small surface like tray tables or small counters, and it fits in just about any bag or case.
The used 11.6-inch Macbook Air is super portable, while the large 13.3-inch Macbook Air provides a larger screen that may be useful for viewing large images and high resolution videos. The discount Macbook Air laptops do not have a Retina display, but still have plenty of screen resolution for working on text documents and viewing online medical resources. When viewing larger images, you'll need to do a little extra scrolling and zooming to see all the detail.
When you purchase your refurbished Macbook Air from GainSaver, we can custom configure it for you with additional memory and a higher capacity flash drive. The used Macbook Air laptops can be configured with up to 1TB of flash drive storage, double the largest flash drive configuration for the 12-inch Macbook. This may be important to you if you need to keep a lot a data at your fingertips. You can hold many more video files, patient images and office data files on a cheap 1TB Macbook Air.
Since the next generation 12-inch Macbook was introduced in Early 2015 and the Macbook Air was introduced in Late 2008, there are many more part numbers to choose from for used and refurbished Macbook Airs. For medical students low on funds, older Macbook Airs are an excellent choice. More recently introduced Macbook Airs offer higher performance, more memory and greater flash drive capabilities, but they cost a bit more.
Powerful Macbook Pro
The refurbished Macbook Pro gives you the performance of a desktop workstation you can take along with you. If you don't mind the extra weight, you absolutely can't go wrong with the Macbook Pro. You can get far more memory and hard drive capacity, faster processors and more ports in a Macbook Pro. If you plan to run your medical, dental or other health provider office from your cheap Mac laptop, the used Macbook Pro is the best solution. They are heavier, but a refurbished Macbook Pro basically lets you take your entire office with you wherever you are called.
The refurbished Macbook Pros from GainSaver come in three screen sizes of 13.3-inch, 15.4-inch and 17-inch. You can also select from Retina Macbook Pros and Macbook Pros without a Retina display. The used Macbook Pro laptops with a Retina display are best suited for running everything from business applications to managing a medical practice and handling chores like patient scheduling and billing.
The refurbished Macbook Pro has many ports, which make it easier to connect multiple devices at once. You can also connect to an external display for a larger view of your work while in the office, and then disconnect it to take it with you.
The first Macbook Pro was introduced in 2006, so as with the Macbook Air, you have many options to choose from at GainSaver to select the price and performance that is right for your needs.
Customize Your Used Mac Laptop
While you are shopping for your refurbished Mac laptop, be sure to click the Quick View button. This will show you how each system can be custom configured for you. The advantage of custom configuration from GainSaver is that you don't need to pay for features and specs you don't need. And you can upgrade your used Mac laptop so that it meets your system requirements. Along with the hard drive and memory customization, GainSaver technicians can install the Mac operating system of your choice, and even install Windows.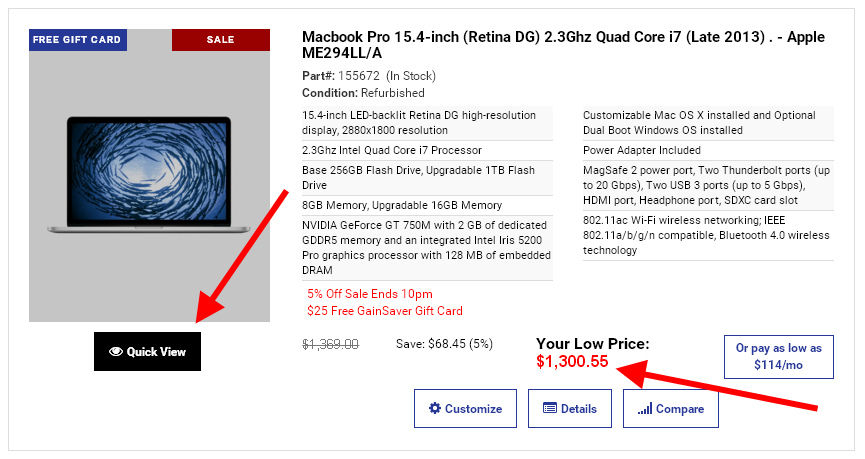 As you change the menu selections in the GainSaver Configurator, you'll see the price automatically update. Select an Extended Warranty option. GainSaver offers Extended Warranty coverage from 180 up to 3 years in length. As you can see for yourself, our Extended Warranty program protects your refurbished Mac laptop investment for a very low price. We highly recommend you take advantage of our exclusive, industry leading Extended Warranty program.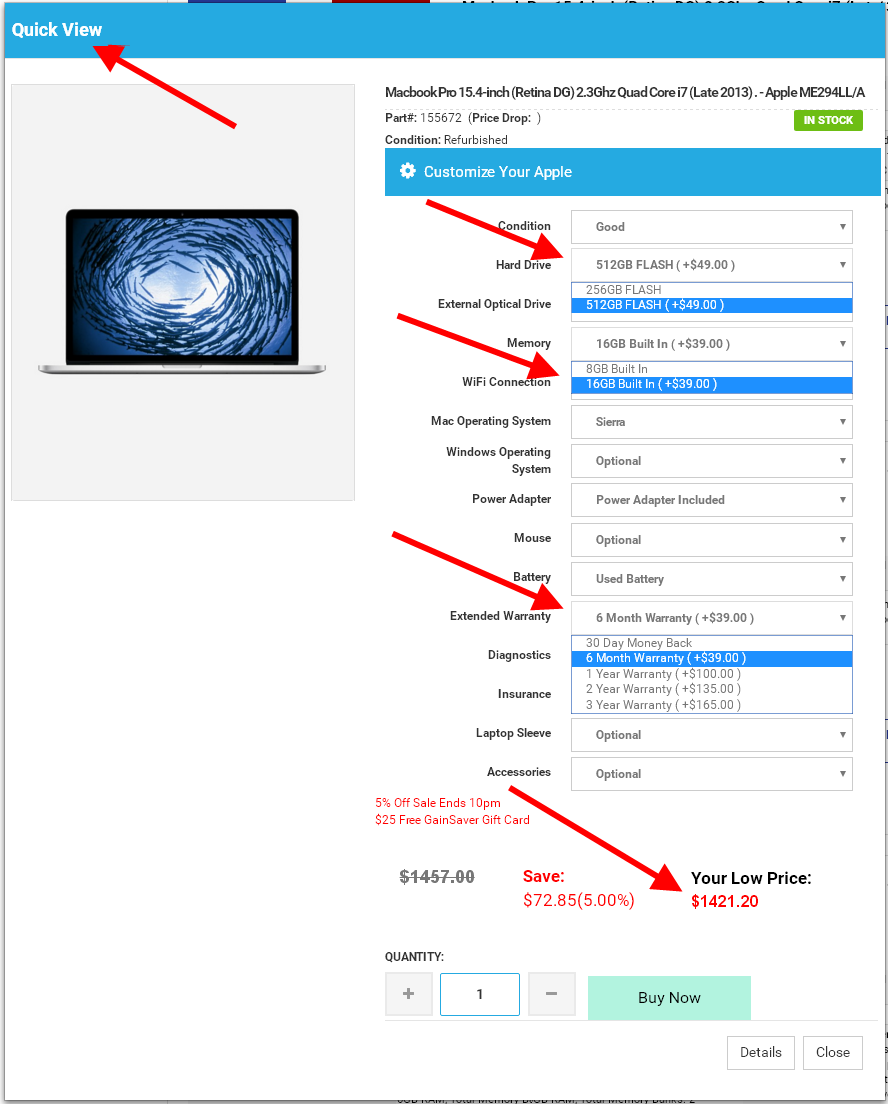 Medical Practitioners Choose GainSaver
We have many clients in the medical field who shop GainSaver because of the top quality refurbished Mac laptops we sell, and the enormous selection of discount Macbooks, Macbook Airs and Macbook Pros. We've been refurbished and customizing Macs for over 20 years, and we are proud to serve our thousands of repeat customers with guaranteed products and the lowest prices anywhere.