GainSaver Configurator Deep Dive
One of the biggest advantages of shopping at GainSaver is custom configuration of your refurbished Mac laptop or desktop. You can have your refurbished Mac configured exactly how you want it. There is no need to settle for the original specifications, which may not meet your requirements.
With customization, you can get exactly the specs the want for your refurbished Mac to suit the applications you will be running. And you don't need to pay extra for features you don't need. So if you are using your refurbished Mac for graphics applications, audio and video production, scientific or business use, you can upgrade the hard drive, memory and more to boost its performance.
GainSaver can customize your refurbished Mac for a lot less money than you can do it yourself. And we guarantee the upgraded components we install. This eliminates the hassle and the risk involved in trying to do the customization yourself.
Make sure to watch for refurbished Macs at GainSaver that are marked with a red On Sale banner. These computers have money saving promotional discounts that range anywhere from 5% off all the way up to 20% off. All configuration upgrades you select on these items are also discounted at the same percent off as the system. For example, memory and hard drive upgrades are 10% off on refurbished Macs that are marked 10% off.
In this blog article, we'll do a deep dive into the GainSaver Configurator. It's easy to use. And it's the secret to getting exactly the refurbished Mac you need!
The GainSaver Configurator
When you click on any refurbished Mac on the GainSaver website, you'll see the Detail View for that item. At the top right of the screen under Customize Your Apple, is the GainSaver Configurator and the customization menus. The Configurator contains a list of all the available options for that specific computer.
Depending on the particular refurbished Mac laptop or desktop you are looking at, the Configuration options will be different.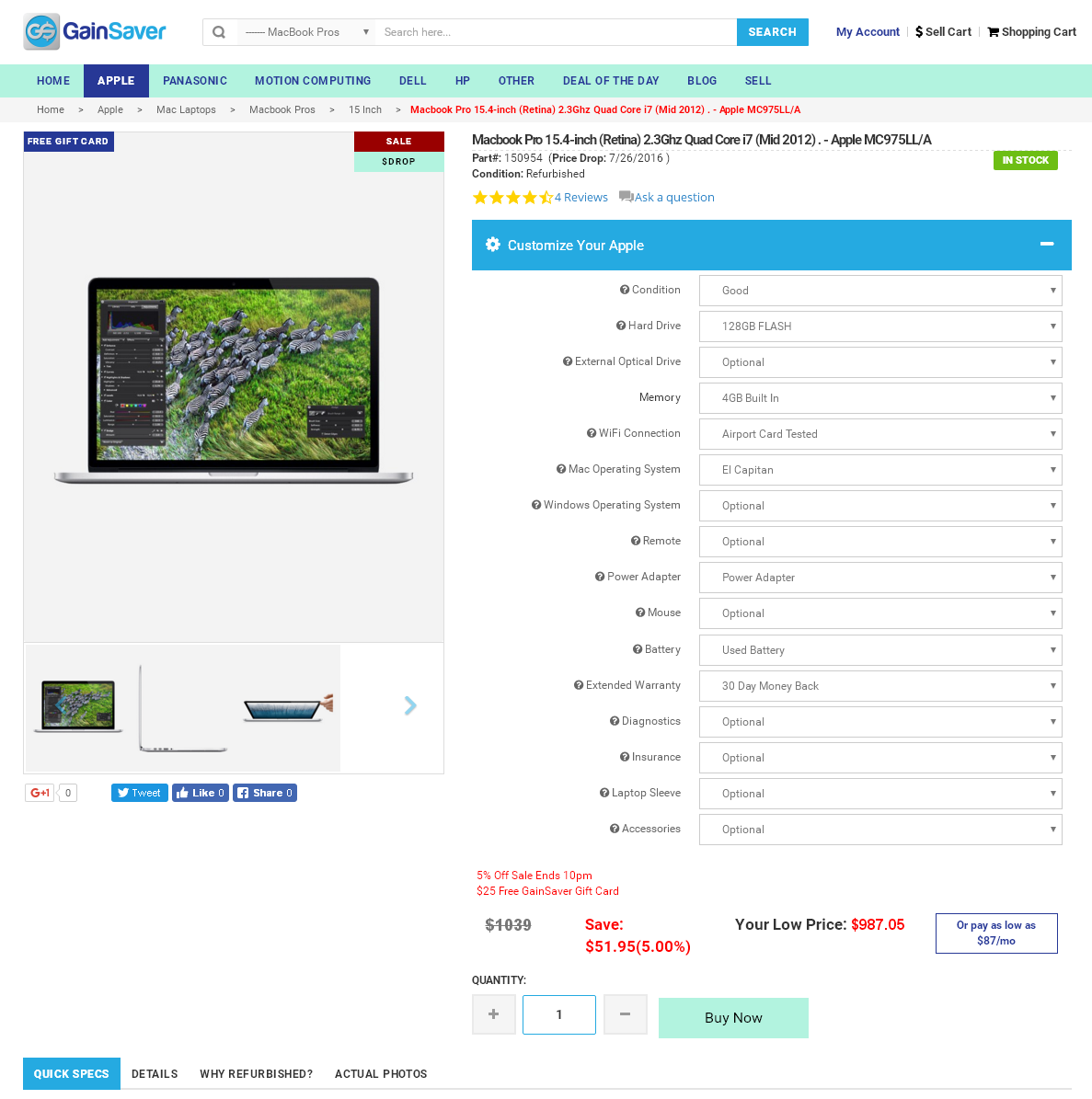 Below the Configurator is the price of the computer. Any time you change the configuration options, the price automatically updates to reflect the changes. This allows you to see the total cost of the base system plus and upgrades you apply using the Configurator menus.
Here's a walk through of each Configurator option.
Condition
For most refurbished Macs from GainSaver, the available Condition is Good. The Condition refers to the external appearance of the computer. Good condition means that there may be some small scratches or minor scuffs on the case. These are the kinds of marks that you would expect to see from normal use.
All refurbished Mac laptops and desktops that GainSaver sells are guaranteed to work properly. All of the internal components such as the memory, hard drive, WiFi, optical drive and ports have all been tested and verified to be fully functional. And for refurbished Macs that have them, we guarantee no dead pixels or scratches on the screen, and the keyboard and trackpad work properly.
GainSaver often has refurbished Macs with cases that are in truly excellent condition. They look like new. These items have an additional Condition selection called Excellent. When you select Excellent Condition, you'll be getting a Mac that nobody except you will know isn't brand new.
GainSaver also has one other Condition called Small Dents. These refurbished Macs have a noticeable ding, dent or scratch on the case. GainSaver makes these refurbished Macs available at a lower price than units in Good Condition for customers who want to save money and don't mind having a dent. As with all GainSaver refurbished Macs, dented unit works perfectly, they just don't look as nice.
Hard drive
You can upgrade the hard drive in most refurbished Macs from GainSaver. Just select the capacity and hard drive type you want.
We highly recommend upgrading the hard drive capacity so that you have enough storage space for all your files. And we offer upgrades to SSD drives that are blazing fast and extremely reliable. If you're not convinced about the benefits of upgrading your hard drive, check out this GainSaver blog article.
Optical Drive
You can customize the optical drive in your refurbished Mac and have GainSaver technicians install a Dual Layer Super Drive if the Mac you want doesn't already have one. The Dual Layer Super Drive allows you to read and write the highest capacity optical discs.
Newer Macs don't come with an internal optical drive, but many people still need one to access backed up data on optical discs, install applications from optical discs, or watch movies on DVD. You can order an external optical drive from GainSaver with your refurbished Mac if you need one. Just select the type you want from the menu.
Memory
Upgrading the memory in your refurbished Mac can increase the performance considerably, especially if you are running memory intensive software applications to do video production or manage extremely large spreadsheet files.
The amount of memory that can be added depends on the refurbished Mac you are considering. The memory in some Macs is not upgradeable. We highly recommend adding more when possible.
Along with the hard drive, memory upgrades are an inexpensive way to boost the performance of your refurbished Mac laptop or desktop.
WiFi Connection
All refurbished Macs from GainSaver have an Airport Card installed and tested to verify that it functions properly. You'll be able to connect it to your local network right out of the box.
Mac Operating System
GainSaver gives you your choice of Mac operating system to have installed on your refurbished Mac. Unless you have special requirements, we recommend going with the latest version of the OS, which is the default option.
If you are running legacy software, or need to connect to older peripherals that require a previous version of the Mac OS, you're in luck! Just select the version you need from the Mac Operating System menu. We'll install it for you.
Windows Operating System
One of the best investments you can make when you purchase your refurbished Mac laptop or desktop from GainSaver is a dual operating system. All you need to do is select the Windows operating system of your choice from the Windows Operating System menu. With a dual operating system installed, you can run both Mac and PC software on your Mac. It's like getting two computers in one!
There are two ways you have Windows installed on your refurbished Mac. The less expensive way is use Boot Camp. With Boot Camp, you simply choose which operating system you want to launch when you boot up your refurbished Mac. To switch to the other OS, you need to reboot.
The other Windows options use Parallels. You can have both the Mac OS and Windows running simultaneously with Parallels, and instantly switch between them. It's as fast as switching between two windows. Choose one of the Parallels options if you need to jump between the two operating systems quickly.
Remote
For refurbished Mac laptops, you can include a Remote. With a remote, you can control your Mac from across the room. It's super handy when you are using your refurbished Mac to watch movies or listen to iTunes.
Power Adapter (Refurbished Mac laptops only)
All refurbished Mac laptops from GainSaver include everything you need to use your computer when it arrives, and that includes the power adapter. If you would like to have an original Apple power adapter with your refurbished Mac laptop, you can select that option from the Power Adapter menu.
Mouse
A mouse is included with refurbished used Mac desktops, and optional with laptops. We recommend adding a mouse if you are a long time desktop Mac user. It's second nature to reach for the mouse to move the pointer, and many people find them easier to control than a trackpad.
GainSaver offers a number of different mouse options. Select the one you like most from the Mouse menu.
Keyboard (Refurbished Mac desktops only)
Keyboards are included with refurbished Mac desktops. You can choose from a number of keyboard options in the Configurator to get the type of keyboard that is most comfortable for you.
Battery (Refurbished Mac laptops only)
GainSaver tests the battery in all refurbished Mac laptops to ensure that it holds a charge for at least an hour or more. If you plan to be away from a charger most of the day, we suggest upgrading your refurbished Mac laptop with a new Apple brand battery. This will give you the most time between charges.
Extended Warranty
All GainSaver refurbished include a free 30 Day Money Back Guarantee. You're protected when you buy from GainSaver. On top of that, GainSaver offers an industry leading 180 Day Warranty for a very low additional cost. You can select it from the Extended Warranty menu in the Configurator.
GainSaver even offers warranty protection for up to three full years from the time of purchase. You can't beat GainSaver's Extended Warranty. Get the full story by clicking the link below.
Diagnostics
All GainSaver refurbished Macs are configured, tested and inspected before we ship them out. When you select the Advanced Diagnostics option from the Configurator, when perform additional testing on all critical components, including the memory, motherboard, video card, hard drive, optical drive, screen, ports, fan and more.
We guarantee all our refurbished Macs for a full 30 days no matter what. The advantage of selecting the Advanced Diagnostics option is that some problems don't appear under normal circumstances without the extended testing.
Insurance
Our shipping boxes and packing materials are extra heavy duty. Your refurbished Mac will be boxed up as securely as possible to protect it on its way to you. But accidents can still happen. Boxes get dropped, misplaced and sometimes stolen. When you select the Insurance option, GainSaver
Laptop Sleeve (Refurbished Mac laptops only)
GainSaver has sleeves that are great for keeping your refurbished Mac laptop safe from sharp corners and bumpy car rides. You should get one to protect it when not in use. The sleeve doesn't take up much space, and you can throw your adapter in there too, where it won't get lost.
Accessories
Accessories, like additional power adapters, are available with refurbished Mac laptops. If you use your refurbished Macbook Pro or Macbook Air at work and at home, it's convenient to have an extra adapter. With one at each location, your covered.
GainSaver Customization Advantage
GainSaver offers a wide range of customization options for our customers that add even more value to the refurbished Mac laptops and desktops they purchase from us. Whether you are just browsing, or you have made up your mind to purchase a refurbished Mac from GainSaver, make sure to check out all the menus in the Configurator. We make it simple and affordable to get exactly the refurbished Mac you want.