Support Resources for Mac Laptop and Desktop Users
Here's a useful collection of support links to help you with questions or issues regarding your refurbished Mac laptop or desktop from GainSaver. The most commonly asked questions are listed here. We've also included resources for finding Mac manuals and gaining general Mac user knowledge to help you become more productive with your Mac.
The huge amount of information on the Apple support web pages is available to all Apple product owners. As a GainSaver customer who saved money by purchasing a refurbished Mac, you are still entitled to access all of the technical support information on the Apple website. As a Mac user, it is there for you, too!
GainSaver's 30 Day Guarantee and Extended Warranty Programs
First of all, as a GainSaver customer, if your refurbished Mac laptop or desktop is currently under the 30 Day Money Back Guarantee or within the coverage period of a GainSaver Extended Warranty, you can return it for any reason. No questions asked. If you can't find the information you need and would like to return your purchase, you can return it to GainSaver by requesting an RMA number.
Apple Support Home
The Apple support pages have answers for just about every question you could ever have about your refurbished Mac laptop or desktop. Click the link below if you'd like to start exploring.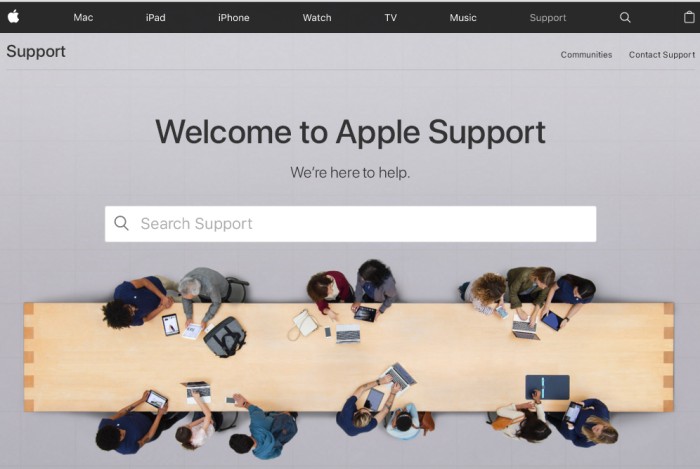 Check out the Apple Support landing page. Click here.
Questions about Passwords
Can't log into your GainSaver refurbished Mac when it arrives?
The hard drive of your refurbished Mac from GainSaver was completely erased and a new operating system was installed. You are the first person to use it.
No Password has been set – just press the return key.
For most operating systems (except Lion), no password has been set. Just press the Return key when asked for the password. You will be allowed access.
Mac OS Lion – the password is "apple"
The only case where your GainSaver refurbished Mac requires a password is with Mac OS Lion. If the Lion Operating System is installed the password is "apple". That's the word apple, all lowercase.
How to Change or Reset the Admin Password
The Apple Support website has a very informative page on how to change or reset the password. Click the link to learn how you can change the password. If you forget your password, the article explains how you can reset it.
Find out how to reset the Admin Password. Click here.
Updating Apps from Apple App Store
One of the best things about owning a refurbished Mac is the App Store. Apps are easy do download, install and update. This Apple support article takes you through the steps of updating the apps on your Mac laptop or desktop. It also shows how you can uninstall and reinstall them should you ever need to.
Get started using and managing apps from the Apple store. Click here.
Keeping your Operating System Up to Date
It's always best to keep your macOS up to date with the latest version. The operating system updates help to improve system performance, fix problems and add new features.
Here's all you need to know about keeping your Mac operating system current. Click here.
Changing the Account Name
Each account on your Mac laptop or desktop has an account name, which is the full name of the user. The short name is used as the name on the home folder. You can change the names to anything you want. Here's how:
See details on how the change the Account Name. Click here.
Never used a Mac before?
OK, now you have logged into your refurbished Mac from GainSaver, and you're ready to go. What's next? If you just switched to the Mac from a PC, the Apple support pages have some very useful information to help you learn your way around the Mac and get productive.
Here's some useful information for people who are new to the Mac. Click here.
Take the Workshop!
Some people learn best by having an expert right there to answer questions and offer suggestions. If you live near an Apple Store, you might want to join a free workshop. You can get a tour of the basic features of the macOS operating system, and lots of tips on how to navigate the interface, run applications and much more.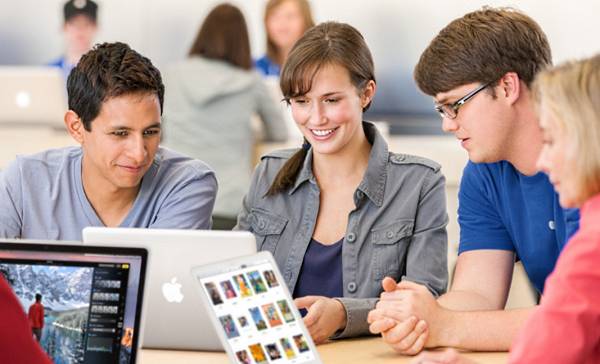 Apple's free workshops are great for beginners, but there are also workshops available for all skill levels. Check it out and become a power user yourself!
Sign up for a free workshop at your local Apple store. Click here.
Manuals and User Guides for all Mac Laptops and Desktops
Looking for a manual? For your convenience, Apple manuals are available on the GainSaver website for each refurbished Mac we sell. The manuals are in PDF format and can be downloaded.
To find the manual for a particular used Mac on the GainSaver website, just go that product's detail page and click the Details button.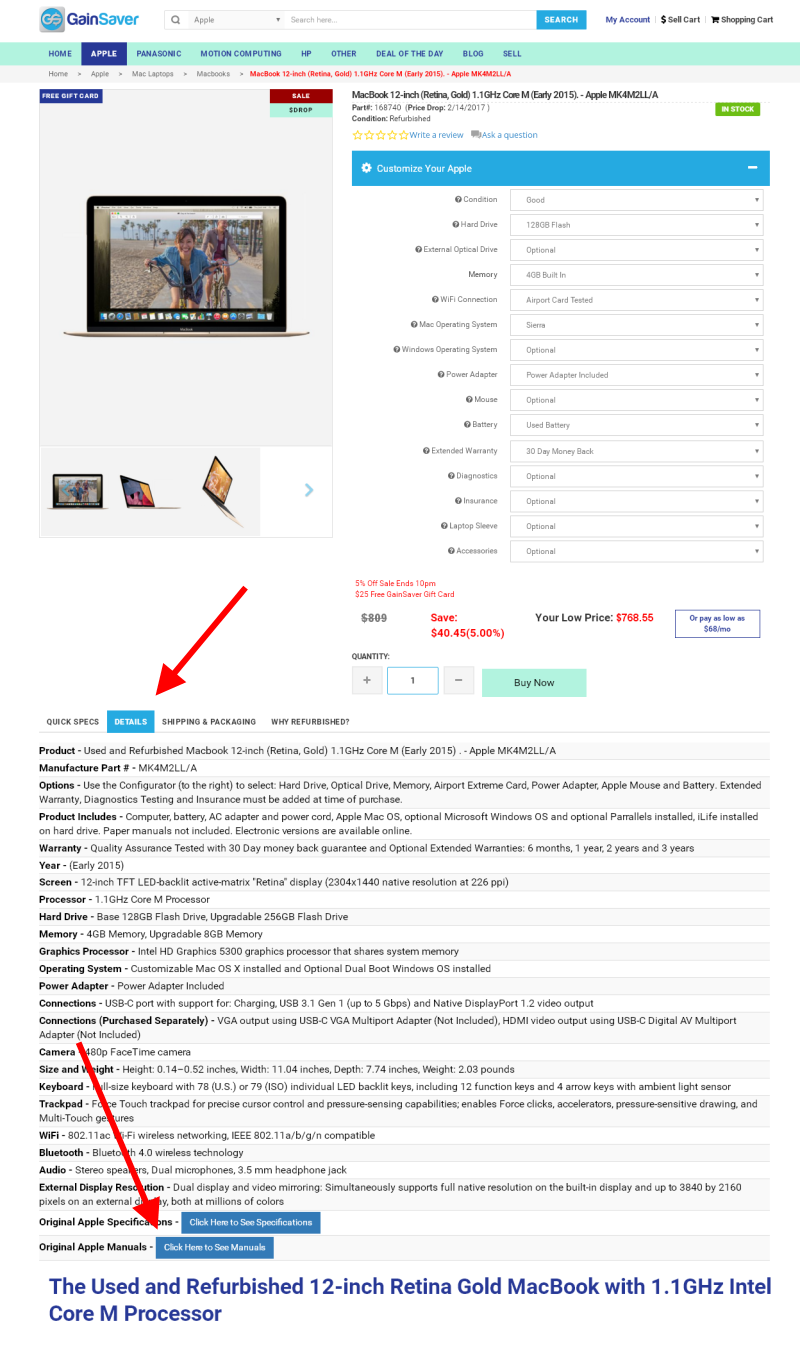 Go to the detail page of the product you purchased
Click the Details Tab
Scroll down to the link
You can also visit the Apple support website to see all the manuals listed together.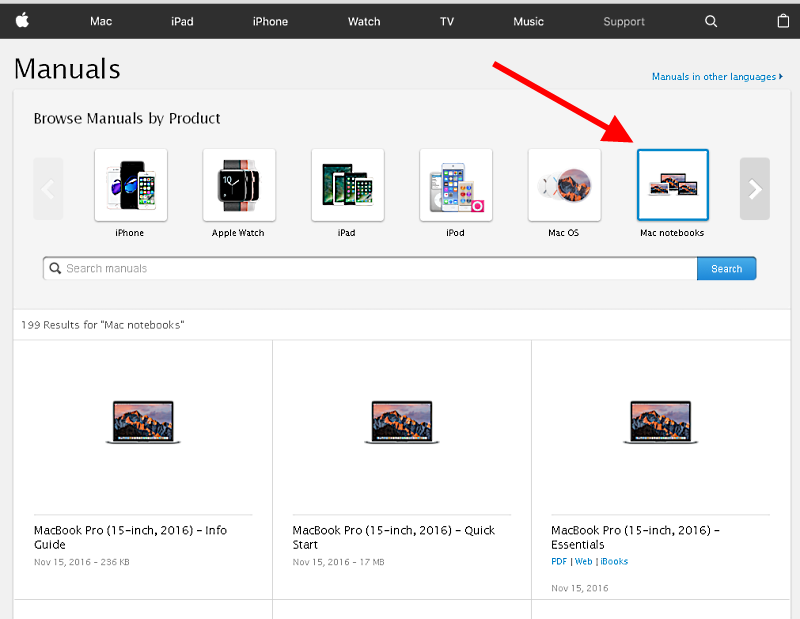 Browse for manuals at the Apple support website. Click here.
Wireless Connection Issues
Some Wi-Fi connection issues can be fixed by removing the current Wi-Fi connection and then restoring it. Just follow these steps.
Choose Apple menu > System Preferences
Click Network.
Remove any existing Wi-Fii connections by using the + / - button, then select apply.
Next, select the + / - button again to add new Wi-Fi connection.
If this doesn't solve your connection problems, the Apple Support website has a list of steps to help you with connecting to a wireless network.
See how to troubleshoot your wireless connection. Click here.
If all else fails, you may need to contact your Internet provider to ensure that you have a working internet connection.
How to Troubleshoot your Mac
This article offers advice on how to isolate problems with your Mac and determine the possible cause. It's a great starting point when you are experiencing trouble, but you're really not sure what cause could be.
Follow these helpful suggestions for troubleshooting your Mac. Click here.
Running Hardware Diagnostics
You can run Apple Diagnostics to check the main hardware components in your Mac laptop or desktop. Apple Diagnostics will let you know if any hardware problems are found, and provide you with reference codes you can use to see how to handle any issues that were discovered by the test.
See how to run Apple Diagnostics on your refurbished Mac. Click here.
Battery, Charging and Shutdown Problems
If you are having power problems, such as charging the battery, or your Mac is unexpectedly shutting down, you can try resetting the System Management Controller, or SMC. Doing an SMC reset can resolve a wide range of system issues:
The computer doesn't respond to the power button when pressed.
A Mac notebook computer doesn't respond properly when you close or open the lid.
The battery doesn't charge properly.
Battery indicator lights behave incorrectly
The computer sleeps or shuts down unexpectedly.
The MagSafe power adapter LED doesn't indicate the correct activity.
The computer is performing unusually slowly
The computer fans run at high speed
The keyboard backlight behaves incorrectly.
Applications don't function correctly, or they stop responding after being opened.
Make sure to carefully follow the instructions for doing the SMC reset – especially the part about disconnecting the power adapter!
See how to reset the SMC on your Mac. Click Here
Searching Apple Discussion groups
You can find answers regarding hardware, software apps and anything Mac related at the Apple discussion groups. It's an invaluable resource, and very easy to use. Just type in a question!
Get answers to your Mac questions from Mac users around the world. Click here.
Third Party Hardware
If you are having a problem with a third-party device not made by Apple, you should check out that manufacturer's website for support information. For example, try searching the HP website for information on connecting an HP printer to your Mac. Same goes for monitors, external storage devices, routers and anything else.
Search it out
Without a doubt, your question has been asked and answered by somebody somewhere. If the popular Apple sites are not turning up an answer, searching Google may lead you to other websites and blogs on that topic.
Try this method as a last resort if you really can't find it on the Apple Support website. Google will broaden your search to help you find information anywhere that someone may have already posted a solution.
Search Google for answers to your Mac questions. Click here.
In Person Assistance at the Genius Bar
Still can't get your Mac issue resolved? If you've tried everything and still can't get your refurbished Mac working properly, you have one more option. You can take your Mac to the Apple Store for in person assistance from an Apple Genius.
For all the details on setting up an appointment in advance, follow this link:
Make an appointment with an Apple Genius. Click here.
Before you go to the Genius Bar:
Read through and try all the trouble shooting tips above – it may save a trip
Make an appointment so you don't have to wait long
Back up your files!
Refurbished Apple Macs from GainSaver are a excellent value because they operate reliably for many years. And in addition, Apple offers a tremendous amount of support if you should ever need it.