Enjoy the Holidays Even More with Christmas Gifts from GainSaver
Everybody wants to get a Mac! The gift at the top of everyone's Christmas wish list is an Apple Mac laptop or desktop computer. Macs are the perfect Christmas gift for just about everyone, from students to business executives. With a Mac you can express your creativity doing graphic design, audio mixing and recording, and video production. They are the one gift that is guaranteed to be used and appreciated all year long.
It would be great if you could give everyone on your Christmas shopping list a Mac, but there's one problem. Macs are expensive.
GainSaver helps you stretch your holiday shopping dollars with top quality, fully guaranteed refurbished Mac laptops and desktops at amazing prices. Our customers buy discount refurbished Macs as Christmas gifts and birthday presents, as well as for other specials occasions such as graduation from high school and college.
If you're not sure about purchasing GainSaver refurbished Mac computers as Christmas presents, this blog article is for you! Find out why shopping GainSaver for cheap refurbished Macs is the best way to beat the Black Friday blues.
Macs are extremely durable
Apple is famous for its design and manufacturing quality. Mac laptops and desktops have a very long useful life. They can operate trouble free for many years, even decades. So if you purchase a Mac laptop or desktop refurbished by GainSaver that was introduced five years ago, it should have at least another five years of useful service remaining.
Another factor to consider is that Mac laptops and desktop don't change all that much from year to year. Newer Macs are typically faster, and may have some new features, such as Retina display or Thunderbolt ports. But Apple is very good about making sure that the operating system software continues to support older Macs. You can be sure that the refurbished Mac you give for Christmas won't become obsolete.
Is it OK to give refurbished Macs for Christmas?
GainSaver refurbished Macs are used, that's true. The Mac laptops and desktops that GainSaver sells have been owned by someone else. But they are not used in the same way as when you purchase used products directly from an individual.
When you shop refurbished Macs from GainSaver, you are not buying somebody else's problems. GainSaver technicians clean, inspect and test every discount Mac we sell to ensure that it is in 100% working condition. The screens on refurbished Mac laptops and refurbished iMacs are guaranteed to be free of scratches or dead pixels. We test all components, including the hard drive, memory, optical drive, motherboard, Wi-Fi and all ports.
In addition, the hard drive is completely erased and a fresh copy of the operating system is installed. You don't have to worry about viruses or malware, or wonder what files might still be on the hard drive from the previous owner. The refurbished Mac laptop or desktop you order as a Christmas gift from GainSaver is used, but the experience you get when you start it up is the same as when you buy a new Mac. It just costs less.
The Condition Option
Because GainSaver refurbished Macs are used, you will probably see some signs of normal use, such as scuffs or minor scratches on the case. However, on selected Mac systems on the GainSaver website, you will find two conditions offered, Good Condition and Excellent Condition. You can see the Condition menu in the GainSaver Configurator.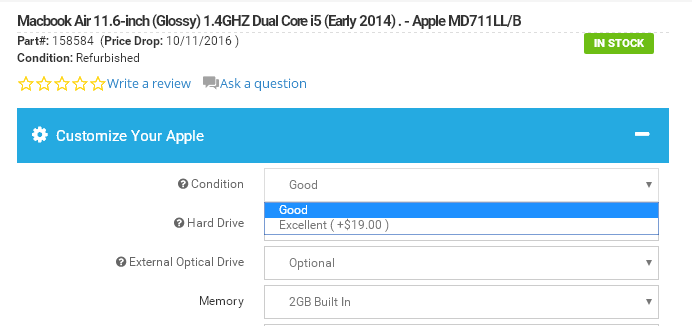 When you order a refurbished Mac in Excellent condition, it looks practically brand new. It's very hard to find any marks or signs of use. We suggest you choose Excellent Condition if this is an important consideration for you. We often have Excellent Condition available for Macbook Pros and Macbook Airs introduced in 2014 and later.
GainSaver is a retail store – not a bidding site
It makes sense to be cautious about purchasing a used Mac laptop or desktop directly from a private individual and giving it as a Christmas or birthday gift. You just can't be sure of what you're getting.
GainSaver is the premiere online retail store for refurbished Macs at incredible prices. We take all the risk out of purchasing a refurbished Mac system. And we give you all the benefits of dealing with an established business.
Here's why you want to shop GainSaver for Black Friday and Christmas this year:
Huge selection of refurbished Macbook Pros, Macbook Airs, iMacs and more
Convenient online shopping
Many payment options, including low monthly payments
30 Day Money Back Guarantee included free
180 Day Warranty Coverage available
Custom configuration available
Returns and exchanges are OK!
Can I return it? Of course!
Every Christmas there are people who receive gifts and decide they want to return them. That's not a problem at all when you buy from an online retail store like GainSaver. We include a 30 Day Money Back Guarantee with every used and refurbished Mac. Just send it back if you, or the person who receives your gift, are not completely satisfied. We can refund your money, or you can choose a different refurbished Mac from our huge inventory. It's up to you.
Will it work when it's opened on Christmas?
We guarantee your refurbished Mac will work just fine when you take it out of the box on Christmas. After each refurbished Mac laptop and desktop passes final inspection, we package it up as carefully as possible so that it gets to you safely and securely. GainSaver uses strong, heavy boxes and plenty of packing material so that your affordable Mac doesn't get bounced around before it reaches you.
GainSaver uses UPS for shipping. We provide you with the tracking numbers so you can follow the delivery online and know when to expect your package. It's just like tracking Santa Claus from the North Pole!
Should you open it before giving it to the recipient?
When your refurbished Mac arrives, you may be tempted to open the box and take a look. This is up to you, but we suggest you keep it boxed up.
As described above, GainSaver thoroughly cleans and tests all discount refurbished Mac systems to verify 100% functionality before shipping. They are really nice and clean when you open the box. If you take a look at our customer reviews, first time customers are very happily surprised at the quality. You will not be embarrassed giving a GainSaver refurbished Mac system as a gift. We promise.
It's understandable you would want to open it first just to check it out. However, the refurbished Mac laptop or desktop you get has just had the operating system installed. When you turn it on and start it up, you go through the initial system setup. You may want to let the recipient of the gift do the setup. If the discount Mac is a Christmas or birthday present for a younger child, you can go through the setup together with them.
So, leave the box closed until Christmas. It's more fun that way, anyway!
Happy Holiday Shopping from GainSaver!
When you're ready to start your Christmas and Black Friday shopping at GainSaver, you'll find a huge inventory at unbeatable prices. We have great deals every day, all year long, and especially during the holidays, from Black Friday weekend until just before Christmas.
You should avoid the last minute rush and order early. You'll find the best selection when you shop early, and it's less stressful. Right now is good time to start!
Happy holidays from GainSaver!